Swingback provides back support without limiting motion

By
Kiel Christianson
,
Senior Writer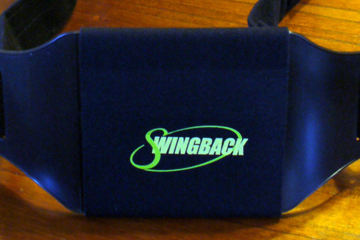 View large image | More photos
The Swingback is a back stabilizer that can be worn either over or under your clothing and is designed to offer relief and support to people suffering from back pain. (Kiel Christianson/WorldGolf.com)
In gyms and weight rooms around the world, you'll find athletes with biceps the size of cantaloupes. Most of them wear a weightlifting belt, generally made from semi-rigid leather, to support their lower back while lifting.
Hoisting massive blocks of iron above your head isn't the only activity that strains the back, though. In fact, around 80 percent of adults suffer from at least occasional back pain, and lower back pain is the most common complaint among recreational golfers and pros alike. Those muscle-head belts could actually help some golfers feel and play better.
But let's be honest: No golfer is going to strut up to the first tee wearing a "Pumping Iron" belt.
Fortunately, we golfers now have a realistic alternative. The Swingback ($149, www.swingbackusa.com) is an extremely lightweight, comfortable, breathable belt that works on the same principles as the typical gym-rat belt, but it is designed specifically for us.
How the Swingback works
The Swingback comprises two light but rigid plastic plates. The wider plate supports the lower back, and the narrower one provides abdominal support. These plates are connected by adjustable, non-elastic Velcro straps, and both straps and plates are covered with soft, breathable material.
After you position the back plate over your lower lumbar region and the front over your lower abdomen, you simply tighten the strap, and your posture is immediately improved. After putting on the Swingback and addressing a ball, some golfers will experience proper golf posture for the first time.
This awareness of one's posture is one of the main benefits of the Swingback. By providing a constant reminder and feedback about your posture, you're far less likely to over-extend your back or return to the poor habits that exacerbate back pain.
Just as importantly, the Swingback provides what sports medicine folks call "inter-abdominal pressure." By supporting both the back and the abdomen, the belt compresses the abdomen, connecting ribcage to hips, and takes strain off the spinal erector muscles, which normally do all the work of supporting the back.
The Swingback doesn't give you a free pass - you should still do some crunches at home to strengthen your own abdominals if you have back pain - but it does allow you to enjoy a round or extended practice again.
One of the two most important design features of the Swingback for golfers is the shape: It allows complete freedom of movement for full swings. The second design feature is its size: The Swingback fits unobtrusively underneath clothing (or can be worn on the outside) so it would be great even for full rounds.
How the Swingback performs
One snowy afternoon in northern Japan 15 years ago, I lifted the back end of a Toyota out of a rice paddy. That night, I bent over to tie my boots, and it sounded like someone shot a .22 caliber pistol behind me. I suddenly realized that I couldn't stand up.
Since that night, I've worked hard to strengthen the muscles around my compromised vertebrae and my abdominals. I'm at the point now where the only part of golf that really hurts is, ironically enough, putting and chipping practice. Hours of hunching over those short clubs can seriously fatigue my back.
So I strapped on the Swingback underneath my shirt and hit the practice green to give it a true test. Two hours (and some great, early-season, short-game practice later), I could feel a distinct difference. As would be expected after the first concerted practice of the season, my back was generally tired, but it was, amazingly, not aching. I didn't even groan getting back into my car like I usually do.
Just as importantly, I was able to groove an amazingly effective chipping stroke thanks to the consistent posture the Swingback reminded me to assume before each shot.
The verdict on the Swingback
Golfers with back problems would be smart to give the Swingback some consideration. It can be worn for practice or play, and after a few swings, it sort of becomes like a second skin, or exo-skeleton, naturally improving your posture and considerably reducing stress on your back.
More photos
«
»
April 3, 2009
Kiel Christianson has lived, worked, traveled and golfed extensively on three continents. As senior writer and equipment editor for WorldGolf.com, he has reviewed courses, resorts, and golf academies from California to Ireland, including his home course, Lake of the Woods G.C. in Mahomet, Ill. Read his golf blog here and follow him on Twitter @GolfWriterKiel.