Sun Mountain golf apparel: Now outfitting golfers themselves against the elements

By
Lisa Allen
,
Contributor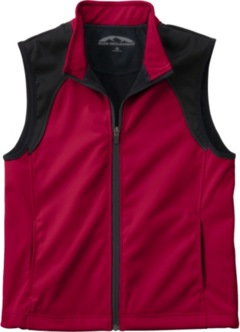 View large image | More photos
Sun Mountain's WeatherShield vest protects golfers from water, wind and cool temperatures. (Courtesy of sunmountain.com)
Sun Mountain is known for making golf carts that keep clubs secure and mobile. They are now doing the same for the golfers themselves, with a line of outerwear that is available in virtually every pro shop.
Sun Mountain's WeatherShield vest for women
A valuable tool for the elements is Sun Mountain's WeatherShield vest, a soft shell that protects from water, wind and cool temperatures.
The fleece lining also has large pouches on the inside for soft items, such as a tissue pack or mittens. The outer pockets are zippered, with pulls that tuck inside the fabric lips over the track. That keeps your outer profile sleek, so nothing catches during your swing. The zipper comes all the way into the collar, so you can brace against wind or cold. It stretches and it's breathable, so you'll be comfortable all day long.
It's ideal in temperatures from about 45 to 70 degrees. Retail: $100.
Sun Mountain's RainFlex jacket for women
Sun Mountain's RainFlex jacket is equally utilitarian. You'll wear this jacket many places beyond the golf course because it's light, flexible, breathable and water repellent. The only flaw is that because it's light, you get the sense of dampness in heavy rain, as the moisture pushes against the fabric into your skin. It's a clingy sensation.
Sun Mountain also built a safety feature into the jacket by using light-reflecting tape to seal all of the seams. If caught in a headlight beam at night, you'll virtually glow.
The key to the jacket's flexibility is its woven construction compared to just a nylon shell that has only one shape. RainFlex, according to Sun Mountain, has 100 percent stretch across the shoulders and in four directions of bias and 30 percent stretch top to bottom. The jacket was constructed so that the seams are not at your joints but away from them, providing more give. It's pretty ingenious.
Do notice the zippers. They are entirely waterproof, thanks to a design that draws together the teeth into a tight seal. Impressive. It's heavy-duty for a light jacket and quiet, too. No swish-swish while moving.
It's the strands themselves that are waterproof, not a coating over them that make other garments waterproof. So the RainFlex jacket isn't boxy or stiff but soft and form-fitting. You wear the jacket, not the other way around.
It has a short, soft neckline that won't get in your way. The pockets have little hoods over the top of the zippered openings to keep out water, and there's another James Bond-type inside pocket that you'll have to search to find the first time. Look for a small zipper on the left side on the edge of the lining.
At the base of the jacket is a very clever shock-cord tightening system. It's a grommet opening with a small ring to make the cord easy to grasp and yank if you want it tight. Velcro fasteners at the wrists enable you to cinch the sleeves where you want them. Retail: $170.
Sun Mountain golf outerwear: The verdict
Sun Mountain did its homework on these garments, making sure they function well and are comfortable for golfers, not hikers or climbers.
This gear is designed to keep golfers warm, dry and comfortable for a round in the rain, wind or cold. But you'll find yourself reaching for them if running errands, too. They are nice looking and functional, no matter what the occasion.
For more information, see www.sunmountain.com.
More photos
«
»
April 7, 2010
Lisa Allen is a golf, travel and business writer based in Beaufort, S.C. She has edited newspapers, magazines and books in Michigan, Indiana and South Carolina. Follow her on Twitter @LAllenSC.