New Journey travel cover from Sun Mountain: It's ClubGlider Lite

By Mike Bailey,
Senior Staff Writer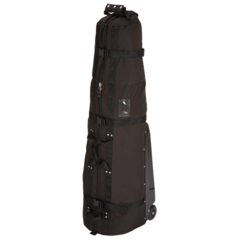 View large image
The new Journey from Sun Mountain is everything that the original ClubGlider travel cover is, except lighter. (Courtesy of Sun Mountain)
Last year as I left for a golf trip to Asia, a friend of mine had me check out his Sun Mountain ClubGlider travel bag cover at the airport. It was everything it was advertised to be. The retractable legs raise the bag to a level that makes it easy to transport clubs throughout the airport and over any other fairly smooth surface.
You can literally move the clubs with one finger; and if you're waiting in the check-in line, you don't have to constantly bend down and grab them as the line moves a few feet. In fact, you can put other bags on top of it if you want, making it that much easier to get around.
So recently, I finally got a ClubGlider bag of my own, except I got the new model -- the ClubGlider Journey -- which is priced less than the heavy duty models and is also lighter. The downside is that you can't over-stuff it with dirty laundry on your return trip, but the airlines really don't want you to do that anyway.
ClubGlider Journey is constructed from 1200 denier fabric as compared to the ballistic-type nylon used on the heavier models, which are now called the Meridian and Pro models. Meridian is the new name for the original ClubGlider. ClubGlider Pro ($299) is the largest of the three models made to accommodate tour players over-sized staff bags or two lightweight carry bags. ClubGlider Journey is a smaller and lighter version.
ClubGlider passes Golf Channel test
The inventor of the ClubGlider, a fellow named Gary Sherrell, hatched this idea on his way from a Las Vegas golf trip.
Anybody who's ever flown out of Las Vegas -- especially on the red-eye -- knows how long those check-in lines can be. And when you have a golf bag, it's even worse. Couple that with the fact that Sherrell had been playing 36 holes a day in the hot weather and, well, there's the inspiration.
So Sherrell literally sketched out his design on a napkin on the flight home. He built several prototypes, approached Sun Mountain and in 2007, appeared on the Golf Channel's Fore Inventors Only Show, making the cut from more than 1,000 entrants.
Long story short, it went over well, and Sun Mountain had something really different.
Sun Mountain ClubGlider Journey: The verdict
This lighter, less expensive Sun Mountain ClubGlider Journey model should find a good market. There are a lot of bags out there for $200 that aren't close to the quality of the ClubGlider Journey, much less the innovation.
All the ClubGlider models feature extendable legs and wheels to support 100 percent of the weight, while eliminating the repeated bending and lifting required with traditional travel bags. With the ClubGlider, walking around is effortless thanks to the maneuverability of the bag's pivoting wheels.
The design also allows you to load the bag without having to get on your knees, close to the ground, which has always been one of the things I've dreaded about traveling with clubs.
All three models are in golf shops now. For the retailer nearest you, call (800) 227-9224 or visit sunmountain.com.
March 16, 2012
Mike Bailey is a senior staff writer based in Houston. Focusing primarily on golf in the United States, Canada, the Caribbean and Latin America with an occasional trio to Europe and beyond, he contributes course reviews, travel stories and features as well as the occasional equipment review. An award-winning writer and past president of Texas Golf Writers Association, he has more than 25 years in the golf industry. Before accepting his current position in 2008, he was on staff at PGA Magazine, The Golfweek Group and AvidGolfer Magazine. Follow Mike on Twitter at @MikeBaileyGA and Instagram at @MikeStefanBailey.