Sun Mountain 2Five: New two-and-a-half-pound golf stand/carry bag is a winner

By David R. Holland,
Contributor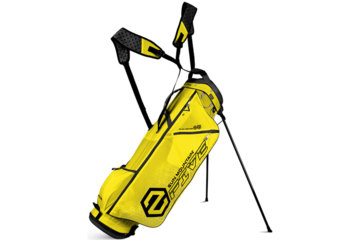 View large image | More photos
With 11 different color combinations, you can really make the Sun Mountain 2Five stand/carry golf bag fit your style. (Courtesy of Sun Mountain)
The new Sun Mountain 2Five stand/carry golf bag is the lightest full featured bag on the market, weighing in at a mere two-and-a-half pounds.
I wish I had this golf bag the day I walked the Old Course at St. Andrews or the many days I hoofed on a summer day in Dallas. It would have been a breeze. And my new Sun Mountain 2Five is a beautiful Red, White and Navy, including a small American flag patch.
Sun Mountain reduced the weight of the 2Five by using carbon-fiber legs, high strength-to-weight plastics, and ultra-lightweight and durable fabrics like those used in mountaineering tents.
To put two-and-a-half pounds into perspective, that's about the same weight as two wedges, or a pair of golf shoes, or three soft drink cans. When you lift up the 2Five, it's more like lifting off as the bag seems to launch off the ground.
The 2Five is a full-size golf bag featuring a 9-inch top with a flared opening for easy club removal and four full-length club dividers. The 2Five doesn't skimp on conveniences, offering four pockets, including a full-length clothing pocket, velour-lined valuables pocket, water bottle pouch, and ball and accessory pocket.
It also includes the details that have made Sun Mountain my favorite: durable top with built-in handle, sturdy bottom with the patented Roller-Bottom leg mechanism for quick and strong leg action, Sun Mountain's X-Strap Dual Strap System, lumbar hip pad, umbrella attachment, towel holder, top-mounted leg mechanism for added stability, pen holder and a coordinating rain hood.
You can really make it fit your style with 11 different color combinations, including the expected navy, black and green as well as the unexpected lime, lemon, orange and purple.
The 2Five is offered at $219.99. For the retailer nearest you, call 800-227-9224 or visit sunmountain.com.
Sun Mountain: Top-shelf golf accessories
Sun Mountain is my choice in golf accessories. Aside from my cart bag and the 2Five, I frequently use my Sun Mountain Speed Cart golf push cart when I'm on my home course. The ClubGlider for airplane trips is simply the easiest way to go. With roller legs deployed you can push it with a finger.
For 30 years Sun Mountain has been a pioneer in the golf industry, revolutionizing golf bags and golf carts.
Within golf outerwear, Sun Mountain redefined golf-specific performance first with the wind shirt, then fleece, and again with its four-way stretch, waterproof and breathable rainwear.
More photos
«
»
December 28, 2015
David R. Holland is an award-winning former sportswriter for The Dallas Morning News, football magazine publisher, and author of The Colorado Golf Bible. Before launching a career as a travel/golf writer, he achieved the rank of Lieutenant Colonel in the Air Force reserve, serving during the Vietnam and Desert Storm eras. Follow Dave on Twitter @David_R_Holland.