Divesting duffers from their dough is now a science

By
Kiel Christianson
,
Senior Writer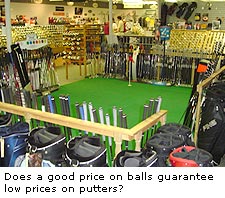 LAS VEGAS, Nev. – The first day of the 2004 PGA Fall Expo in Sin City is devoted to educational seminars for PGA members. Many of the presentations given deal with golf retailing. They are essentially tutorials teaching golf shop operators how to better relieve duffers of their dough. As pretty much the only member of the media attending these sessions – GolfInstruction.com's very own fly on the wall – I was privy to these strategies.
And now, faithful readers, so are you.
In a session entitled "How to Evaluate a Retail Store," presenter and author of Retail Business Kit for Dummies, Rick Segel, stressed that pricing is not fixed in stone any more. "In the old days," he said, "it used to be buy it and double the wholesale price. But not anymore." Some items can be more, others less. "Don't worry about marking things to high," he urged. "That's why God invented mark-down sales."
"Thou Shalt Mark Down" must have been on the tablet of Commandments that Moses dropped.
Lisa Langas of Golf Shop Operations Consulting Service in Denver concurred with Segel. She stressed pre-planning markdowns, cutting by 25 percent any merchandise that store owners cannot move at least half of in 60 days.
One of the interesting points for the golf shopper like you and me, is that at 25 percent mark-down, the store is still making money. Fifty percent mark-down is close to wholesale, but is often still profitable. Below 50 percent, though, and you're actually getting a good deal.
Langas told shop owners to put the sale merchandise in the back of the store, to make shoppers walk past the full-price items. This is a trick that all male shoppers are well aware of, however, and if you're like me, you don't look at anything on the way back to the bargain bin.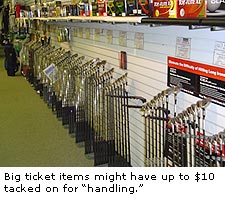 One more subtle piece of intelligence has to do with floorplans. Good shops will have carefully thought-out layouts designed to shepherd their free-market flocks through areas with the merchandise with the highest profit margins. The advice here is to take the road less traveled, and keep your eyes open for forgotten gems that have languished in some forgotten nook.
Along these same lines, be aware of natural "hot zones," such as the front right of the store. These places just seem to promote purchases no matter what is displayed there. So beware impulse buying of the first thing to catch your eye.
The coup de grace, however, was delivered by Tom Shay of Florida. He exhorted golf shop owners to never lower prices, and to those who complain, saying, "I think it's morally wrong to charge these prices," Shay replied: "Get out of retail."
Shay identified five types of merchandise: blind price items, every day sale price items, promotional sale items, price sensitive items, and variable price items.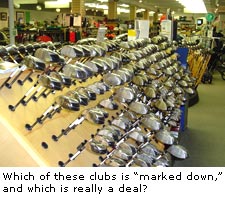 Blind price items are those that average customers have no idea how much their price should be. These are generally luxury items, requiring extra handling, extra time to price, are not widely available, and are not seasonal. Shay urged retailers to jack up the prices on these because no one will notice.
Every day sale price items get people to walk in the door, and everyone knows what the price is. These items bring in customers because people think, "If the price on X is low, the price on everything else must be low, too." And you might beat the house in Vegas, too.
Promotional price items are items that retailers get special – sometimes nearly free – from vendors to get you in the door. No matter what you pay for these, the shop turns a profit. These are often placed right next to higher-priced items, to promote the belief that all the shop's prices are low.
Price sensitive items are often closely related to other items, with "additional benefits or features." These are related to everyday sale items, but, Shay said, "retailers should move customers" toward the higher-priced items. Like when you come in for a dozen Titleist So/Lo and leave with dozen ProV1s.
"I'm not advocating a bait and switch," claimed Shay. But this struck me a bit like a full-contact lapdancer claiming that what she does is not promoting infidelity.
Finally, there are the variable priced items, which are generally low-priced "trinkets" (but might range up to full sets of irons). Shay told golf shop operators to add a strategic "surcharge" for handling (the so-called "Putney Pricing System"). The magic add-on number for trinkets is 24 cents, but for larger items might reach all the way up to $9.99. In other words, in order to increase the overall margin, your pro-shop manager could be squeezing up to $10 a purchase out of you above and beyond what their normal profit margin would be.
The bottom line is the only thing retailers like Shay consider to be important is their bottom line. And the only way you'll be able to keep from getting squeezed is to know their tricks.
And remember, God also invented haggling.

September 28, 2004
Kiel Christianson has lived, worked, traveled and golfed extensively on three continents. As senior writer and equipment editor for WorldGolf.com, he has reviewed courses, resorts, and golf academies from California to Ireland, including his home course, Lake of the Woods G.C. in Mahomet, Illinois. Read his golf blog here.