Look what's under the tree! Golf gifts for 2004

By
Kiel Christianson
,
Senior Writer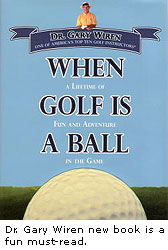 Two and a half weeks until Christmas. Well, it's a bit early for me personally to start thinking about shopping, but I know there are those traditionalists out there who feel like the gifts actually have to be under the tree by Christmas morning to make it seem like a holiday, so here we go.
Books
As partial to the written word as I am, books are always my first choice for gifts. Here are two brand new future classics.
When Golf is a Ball: A Lifetime of Fun and Adventure in the Game by Dr. Gary Wiren (Clock Tower Press or golfaroundtheworld.com, $23). Dr. Wiren is not only one of the most well-respected golf teachers in the world, he is also one of the most widely traveled and best educated. This book is a compilation of anecdotes about famous players, fellow pros, his own travels, and his own golf philosophy. The sections are short, snappy, and as addictive as Pringles; you can't read just one.
Old Man and the Tee by Turk Pipkin (St. Martin's Press, $25). Pipkin is a stand-up comedian, actor, and writer for publications as far afield as Golf Digest and Playboy.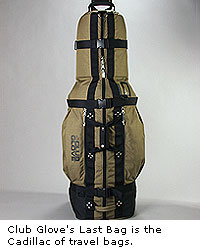 In short: Pipkin a writer's writer who can spin a good yarn just as easily out of cobwebs and duct tape as fine silk. This is the story of how he rededicated himself to the game in the memory of his late father. Pipkin, like all of us at one time or another, had to remind himself how great the game is. To do so, he spent a year trying to shave ten strokes off his 16 handicap. Much harder than getting a big fish in a boat, and more entertaining.
Apparel
It's nice to look cool (and dry) on the links
Sun Mountain's Stormtight collection includes a waterproof, breathable short-sleeve rain shirt and rain vest. Stormtight Short Sleeve is a half-zip pullover that offers guaranteed waterproof protection with the comfort of short sleeves (MSRP $80). Stormtight Vest is a waterproof, breathable half-zip pullover offering total freedom of motion ($70).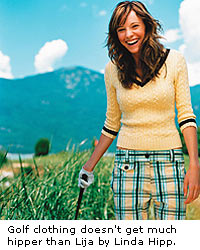 For that special two-ball partner in your life, golf clothing doesn't get much hipper than Lija by Linda Hipp (lijastyle.com). Vancouver, Canada-based designer Linda Hipp, Lija (pronounced lee-zha) is golf's most fashion-forward, upscale women's apparel line. Lija allows creative, independent women to look feminine and feel comfortable on- and off-course. The fastest growing brand in women's golf, Lija's 2005 Collection features 160 fun, trend-setting pieces found in more than 750 retailers in North America, including Marshall Fields and Nordstrom.
Bags
The one piece of golf gear you can actually buy for someone else is a bag. They don't have to swing it to make sure it fits.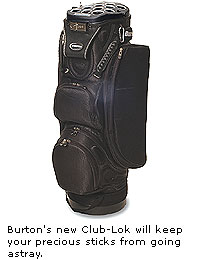 Burton Golf (burtongolf.com) has just introduced the Club-Lok bag (MSRP $190), which promises to protect your clubs from theft. You'd be amazed how many clubs get stolen each year, including those of Tour Pros. Nancy Lopez recently had her sticks swiped from an airline flight. The Club-Lok system is not the first locking golf bag, but it appears to be the most secure (stay tuned for a full review), and it looks really cool.
So you have your clubs all locked in the Club-Lok, but you still need a travel bag to keep the clubheads from getting dinged. If you want to travel in style -- the style of many Tour Pros -- you can't do better than Club Glove's Last Bag (MSRP $249). This soft-sided (think easy storage) yet extremely heavy-duty travel bag is both easy to maneuver and solid as a rock. (Keep an eye out for a full review!)


Big Ticket Item
How good have you been this year? If you deserve one of these, you've been downright saintly!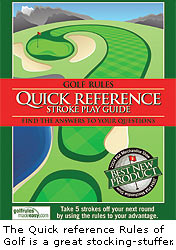 SofTrak Putting Greens (unitedturf.com, (877) MY-GREEN) are high-performance, low-maintenance synthetic putting greens offered exclusively by Wichita, Kansas-based United Turf Industries. These very realistic greens hold shots from as far out as 125 yards and are virtually maintenance free. Owners of SofTrak greens include PGA (Fred Couples, Steve Flesch), Champions (Bruce Lietzke) and LPGA (Donna Andrews) Tour players. Costs range between $5,000 and $75,000, depending on green size and shape.
Socking Stuffers
Golf should be fun. So should golf gifts.
Golf Rules Quick Reference Stroke Play Guide ($9, golfrulesmadeeasy.com) is a handy, easy-to-read guide to the rules of the game that promises to take five strokes off your score just by using the rules to your advantage. (Raise your hand if you can take off seven by not paying attention to the rules at all.)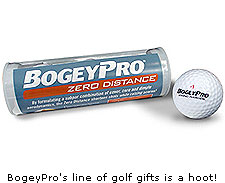 Minnesota-based BogeyPro (bogeypro.com) produces perhaps the most creative golf gifts on the market. Founder Arik Nordby is an advertising guy by trade, and it shows in the instantly likeable, imminently memorable golf balls (Zero Distance, No Spin, and Poor Control -- all of which are actually decent balls made by Wilson), tee shirts (which diagram the best way to break a club or throw your entire bag), and tournament prize packs (Underachiever Awards, Loudest Profanity, Most Balls Lost). This stuff is a hoot!
From all of us at TravelGolf.com, may your holidays be filled with love, and your next scorecard be filled with birdies.
December 6, 2004
Kiel Christianson has lived, worked, traveled and golfed extensively on three continents. As senior writer and equipment editor for WorldGolf.com, he has reviewed courses, resorts, and golf academies from California to Ireland, including his home course, Lake of the Woods G.C. in Mahomet, Illinois. Read his golf blog here.