Don't ignore the shaft - it's the engine that revs up your club

By
Tim McDonald
,
Contributor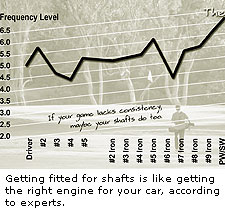 Quick, name the brand of the shaft you use on your golf clubs.
The odds are you can't without sneaking a peak. You probably know the name brand of every other piece of golf equipment you own, but not the shaft.
The lowly shaft. Because it doesn't engender much controversy-like high-tech golf balls that give you an extra 50 yards or hybrids that let regular chumps loft the ball better-it isn't considered sexy.
The slide-rule set over at the shaft factory would like to set you straight.
Put it in drive
"The shaft is the engine of the club," said Randy Pollock, vice-president of quality and engineering at Royal Precision, which has been making steel shafts for 81 years. "It's like driving a car and not knowing what you have underneath the hood. I'm not sure why you would do that."
Even the USGA has ignored shafts to date. The governing body has tons of rules for almost everything but the shaft. And because of the shy nature of the shaft, everyone from club manufacturers to your local golf shop doesn't usually mention shafts when trying to make a sale.
"It's very overlooked," Pollock said. "They're into selling you a whole set, they're not really into advertising shafts or what the shaft actually does. They pick what they think is the best shaft of the majority of golfers out there and that's what they stick in their clubs."
Hey, what's your launch angle?
Back it up, hacker. If you want to find a set of clubs that is right for you, you should start with the engine, according to Pollock.
"In reality, the best way to get a good fit, especially with the technology today, you should be fitted for the shaft, like you are anything else," he said.
How do you do that? Well, you find some place that has a "launch monitor." Determine your launch angles and spin rates and pick a shaft that fits.
"I always tell people the best thing to do is go to your local pro or some club fitting center," Pollock said. "Pay a little fee and get fitted. Get their opinion on what the right fit is for you."
No perfect formula
One of the key factors here is flex, which gets a little tricky because manufacturers have different ways of identifying flex. For example, there really is no standard "regular" flex, or "r" flex, although Golfsmith tested and rated all the golf shafts on the market and assigned them an MPH rating.
Remember, there is no strict formula to follow here, just what feels right for you.
"It's a very difficult thing to say, 'Ok, I'm an 18-handicap - what shaft should I use?'" Pollock said. "A lot of it has to do with what your swing plane is, what your swing speed is, what kind of ball flight are you looking for? Some people like high-ball flight, some people like low-ball flight. The real secret is try to figure out what is best for your particular game. There is no one single formula."
Match your frequency
There is a process called frequency matching, which the pros are well aware of. It's complicated, but basically it involves putting a club on a machine and determining how many cycles per second it vibrates. Get a number associated with your frequency: that way, when you go to a store to buy clubs, you'll know what you're looking for.
So when you go to a golf shop, you can pick out the clubs you like, then order them through the manufacturers customs department and tell them which shaft you want, along with the frequency number. It doesn't cost any more.
"A lot of people aren't aware of it," Pollock said, "Buying clubs off the rack, almost every (original equipment manufacturer) out there has a custom department, where you order a set of clubs with whatever shaft you want and whatever frequency you want. The other option is buying off the rack knowing some time in future you'll have to have them re-shafted."
Slow tech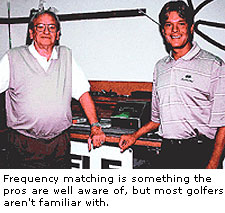 The process of making steel shafts for golf clubs hasn't changed much in 80 years. You start with flat, steel stock and roll it into a tube, then draw the tube into the right diameter and then shape it. It still takes about two weeks to make a golf shaft.
There is one exception. Up until 20 years ago, most every shaft was straight. There was no way to vary the wall thickness. Then a technology was discovered enabling makers to vary the wall thickness.
"It lets us control the 'kick point' and performance properties," Pollock said. "Now we can design shafts and fit shafts to people so they can have different kick points, so they can have higher or lower launch angles, depending on what they want."
Lighter, stronger steel
With all the technological advances coming out in all other areas of golf, why not shafts? Will there be a quantum leap?
Pollock doesn't think so.
"It's been a relatively successful business for the two of us here in the U.S. (Royal Precision and True Temper, the biggest two manufacturers) so there's not a lot of impetus for us to make huge, major changes," he said. "Eventually, will somebody come up with some kind of weird shaft that has spring-power to it or something? Who knows, maybe. If they do, then the USGA will come out with a rule."
It is more likely that steel shafts will become lighter and stronger in the coming years. The biggest change shaft makers are hoping for is that more people will want to be custom-fitted for shafts. Like others, they want to be appreciated and make a buck to boot.

July 27, 2005
Veteran golf writer Tim McDonald keeps one eye on the PGA Tour and another watching golf vacation hotspots and letting travelers in on the best place to vacation.