Solaire clubs by Callaway: One-stop equipment shopping for female golfers

By
Kiel Christianson
,
Senior Writer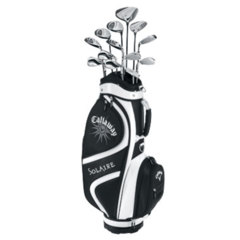 View large image
The 14-piece Callaway Solaire set is ideal for adult women golfers looking for quality, player-friendly, matching gear. (Courtesy of Callaway Golf)
Callaway continues its support of female golfers with solid 14-piece Solaire club set.
For several years, the only segment of the golfing population that was experiencing annual growth was that of women golfers. I don't know if this is still true now that the nation's financial geniuses sliced the economy into the woods, but there is at least one happy effect of the above noted trend: Equipment companies are paying more attention to women's golf gear, clubs in particular.
Callaway, a major early sponsor of the LPGA Tour, is a leader in this respect, and the company's new Solaire set represents welcome one-stop shopping for women golfers.
The 14-piece Solaire set (13 clubs plus bag, $899) consists of the following clubs, all of which are graphite-shafted, except for the putter:
• Solaire putter (center-shafted, no offset, midsize mallet)
• SW, PW, AW
• 9- and 8-iron
• 7-, 6-, 5-hybrid
• 7-, 5-, 3-wood
• Solaire driver (13 degrees)
In addition to the full complement of sticks, the set comes with a very handsome matching black-and-white canvas and patent-leather cart bag with brushed nickel hardware and a passel of pockets.
One of the best things about the set is that it is not condescending, by which I mean that it is neither pink nor purple. It is a serious, well-built set of clubs that incorporates all the engineering bells and whistles any serious golfer would expect these days.
The wedges and irons have deep cavity backs, the mid- and long-irons have been replaced by wood-like hybrids, and the driver is big-headed and deep-faced. The head of the driver is also asymmetrical, promoting an inside-out swing path with both visual and weighting cues.
For all the technological advances incorporated into this set, the putter design is perhaps a bit odd: The smaller mallet head and straight shaft were far more popular in both men's and women's clubs several years ago, prior to the explosion of bent and plumber-neck shafts and hosels, which naturally position the hands ahead of the putter head and branding-iron-like mallets. Nevertheless, it is a very clean, compact face-balanced putter with a nice profile at address.
Similarly, in recent years, carry bags have become far more popular, especially among younger golfers. Yet the single-strap Solaire bag is most definitely a cart bag.
Upon inspecting both the putter and the bag, my 11-year-old daughter commented that the set seems to be targeted at an older, er, more mature generation of golfers.
But this is a good thing. The sport needs as many new players as it can get – of any age and either gender. And with solid equipment such as Solaire by Callaway, many more new women players might stick with it in the years to come ... unless the economy carries all the way O.B.
January 15, 2010
Kiel Christianson has lived, worked, traveled and golfed extensively on three continents. As senior writer and equipment editor for WorldGolf.com, he has reviewed courses, resorts, and golf academies from California to Ireland, including his home course, Lake of the Woods G.C. in Mahomet, Ill. Read his golf blog here and follow him on Twitter @GolfWriterKiel.