Scotty Cameron Studio Select Kombi putter appeals to refined palates

By
Kiel Christianson
,
Senior Writer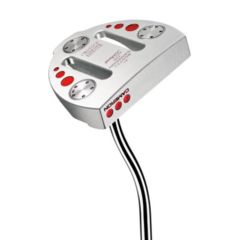 View large image
The Studio Select Kombi by Scotty Cameron features the flowing lines, bright colors and hefty pricetag. (Courtesy of Scotty Cameron/Titleist)
The March 2, 2009 issue of GolfWorld magazine featured a profile of the most famous putter designer today, Scotty Cameron. In the article by Max Adler, Champions Tour player David Eger was quoted as saying, "I don't know a single serious player who hasn't putted with a Cameron at some point in his life."
The article goes on to chronicle the almost religious fervor among Cameron's fans, and points out that Tiger Woods has used a Cameron putter to win all of his 14 majors.
So when the newest model in Scotty Cameron's Studio Select line hit the market earlier this year - the Studio Select Kombi ($299), made exclusively for Titleist - it was a big deal. And when I received a sample to test, it was all I could do to tamp down my own expectations and maintain some semblance of journalistic objectivity.
After all, as far as putters go, walking onto the first green of my local muny carrying a Scotty Cameron is a bit like walking into Friday mass with the Holy Grail.
How the Scotty Cameron Studio Select Kombi plays
The test model had the standard specs: 35", face-balanced, four degrees loft, 71 degrees lie, double-bend shaft, and three tungsten weights (10gr-10gr-20gr) set into the sole in a triangular pattern with the heaviest one farthest away from the face. (The loft, lie and weighting can all be customized, however.)
The Kombi prominently displays Cameron's signature three red dots and red grip with Cameron's name in whimsical, off-kilter print. The mallet head is milled from a single block of aircraft-grade aluminum, and the alignment lines are in a "double T" on the top of the head. At first blush, the only unappealing feature of this otherwise sexy putter is the shiny silver headcover, which closes with two Velcro strips that are obnoxiously loud when pried apart.
At address, the Kombi looks like all Cameron designs, with smooth, flowing lines like an art-nouveau sculpture. Cameron believes these gentle angles calm players faced with tough putts.
Interestingly, the large aluminum head is much lighter than it appears. It actually looks a little bloated or puffy, perhaps due to the disconnect between the appearance and the weight. The official description of the putter, though, stresses that the weighting of the head is perfectly matched to the shaft's length.
I tested the Kombi during a round on familiar greens and extensively on the practice green at Lake of the Woods Golf Course in Mahomet, Ill., where I enlisted four other golfers to provide input.
I found the Kombi to have a beautiful set-up, and the markings made alignment a cinch on short putts. However, I had trouble gauging distance, and consistently left putts short both on the course and on the practice green. When I stroked more aggressively, though, my aim suffered.
On the practice green, I presented the Kombi along with three other putters from different companies to John Patterson and Karl Newton of Mahomet and Randy Feese of Lincoln, Ill., all low double-digit handicappers. Each of these golfers immediately noted the surprisingly lightweight clubhead.
Tellingly, although each had heard of Scotty Cameron and not the other three companies, the Kombi came out on the bottom of each one's ranking.
"I just can't get a feel for it," said Feese.
Patterson simply said, "I don't like that one."
And when Newton asked the price of the Kombi, which was nearly twice as much as two of the other putters tested, all three shook their heads when they heard $299.
To be fair, I also asked Dave Hunzler, former LPGA Tour caddie and single-digit handicapper, for his opinion. Although Hunzler is a lefty, he always checks out putters right-handed first, because righty models are the only ones usually available in showrooms.
"Wow," exclaimed Hunzler, "I love the way this sets up. The weighting is good, and the double-bend shaft puts your hands in the perfect position. It really promotes a square face through impact."
The Kombi was a winner in Hunzler's opinion. After handing it back to me, he went back to practicing with his own Scotty Cameron blade.
The verdict on the Scotty Cameron Studio Select Kombi
The Studio Select Kombi has a gorgeous profile and beautiful, even artistic lines. And the feel of the ball off the putter face is smooth as silk. However, in the eyes of four mid-handicap golfers (including myself), it did not quite live up to its high expectations (or high price).
Scotty Cameron putters are iconic, and Cameron himself is already a legendary club-builder. There is even a fan-run Web site devoted to Cameron's putters (cameroncollector.com), and online auctions for some Camerons headcovers can reach as high as $1,300.
Obviously, Scotty Cameron's coveted flatsticks, including the Kombi, appeal to golfers with refined palates (and deep pockets).
For more information, visit www.titleist.com or www.scottycameron.com.
September 4, 2009
Kiel Christianson has lived, worked, traveled and golfed extensively on three continents. As senior writer and equipment editor for WorldGolf.com, he has reviewed courses, resorts, and golf academies from California to Ireland, including his home course, Lake of the Woods G.C. in Mahomet, Ill. Read his golf blog here and follow him on Twitter @GolfWriterKiel.