Royal Collection brings driving cavity technology back to the U.S. with its JP104 Series

By
Kiel Christianson
,
Senior Writer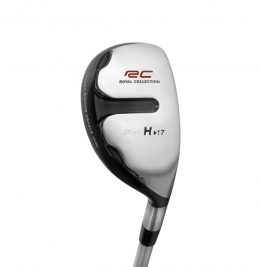 View large image
The new JP104 hybrids by Royal Collection (RC) feature the powerful "driving cavity" technology. (Courtesy of Royal Collection)
I've always been intrigued by the so-called "cult favorites" such as "The Rocky Horror Picture Show" and the Pontiac GTO.
For golfers, one of those cult favorites was Sonartec, an equipment company that pioneered hybrid clubs and was known for the "driving cavity" incorporated into the soles of its hybrids, fairway woods and drivers. The popularity of Sonartec peaked after the 2004 British Open, when Todd Hamilton maneuvered his way around Royal Troon Golf Club largely with a Sonartec hybrid.
Despite the surge in name recognition after that high-profile win, Sonartec disappeared soon after, and there was much wailing and gnashing of teeth among golfers who swore by the power of the driving cavity.
Well, at least in the U.S. Sonartec never really was a proper equipment company. It was the U.S. brand name used by Japan's Royal Collection (RC), which has been producing golf clubs without interruption since 1992.
At the 2011 PGA Merchandise Show, Royal Collection introduced its clubs -- and reintroduced the driving cavity -- to the U.S. market. The flagship of RC's 2011 line is the JP104 Series, including the company's hallmark hybrids.
We got hold of one to test.
How the Royal Collection JP104 plays
We tested the H19 (19 degrees) RC hybrid with a Mitsubishi Rayon Fubuki shaft (70 gr, stiff; $220). The JP104 is a classic hybrid that sets up very much like some of the original "wood-irons" -- squared heel and toe, relatively deep face and only a slight offset. This last feature tips you off that this is a shot-maker's hybrid. But it's not just built to get the ball into the air easier for higher handicap players; it's also very workable.
I'm not quite sure what the physics are behind the driving cavity, or what makes it such a big deal, but I can attest that the JP104 is massively long. This is good and bad. At 19 degrees, it's just 2 degrees more lofted than my normal 5-wood and 2 degrees less lofted than my usual 3-hybrid. In theory, this would allow me to replace both clubs with the RC hybrid. At the same time, some of the holes at my home course set up sort of perfectly for the yardages I hit those other clubs. Using the RC would require figuring out how to get more or less yardage out of my swing, which is notoriously balky without trying to make adjustments.
In short, the JP104 is explosively long but can be controlled and shaped almost as well as an iron. The downside is that, unless you're planning to acquire several of them, it might be tricky to replace just one iron or upgrade one existing hybrid. Even if you're swapping out a club with the same loft, the JP104 will be longer. Then again, too much length is always a nice problem to have.
Another potential downside is availability. While it's back in the U.S. market, Royal Collection isn't exactly a household name. Royal Collection is destined to be another cult favorite. And like another RC with a big cult following -- Royal Crown Cola -- it's well worth searching for.
For more information, see www.royalcollectionusa.com.
June 23, 2011
Kiel Christianson has lived, worked, traveled and golfed extensively on three continents. As senior writer and equipment editor for WorldGolf.com, he has reviewed courses, resorts, and golf academies from California to Ireland, including his home course, Lake of the Woods G.C. in Mahomet, Ill. Read his golf blog here and follow him on Twitter @GolfWriterKiel.