PowerBilt Air Force One DFX driver: Nitrogen charged and powerful

By
Kiel Christianson
,
Senior Writer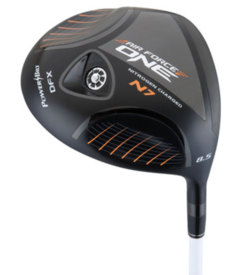 View large image
PowerBilt's Air Force One DFX driver is injected with nitrogen to reinforce the clubface. (Courtesy of PowerBilt)
The titanium revolution hit golf in the early 1990s, as club manufacturers realized they could make ultra-thin driver faces with the lightweight, super-strong metal. The thinner the face, the greater the spring-like effect and the faster the ball jumped off the face.
Then the ruling bodies got involved and limited the so-called trampoline effect, putting the reins on the springiness. Also, if you make the driver face too thin, it tends to cave in or crack. So titanium driver faces have to be reinforced with something, and that something adds weight.
PowerBilt, however, figured out a way around this problem with its Air Force One DFX driver. PowerBilt injected the driver with nitrogen to reinforce the face. Why nitrogen? It's an inert gas, which doesn't contract or expand with temperature changes. So the clubhead is lighter than most, and the pressure (and consequently the spring-like effect) in the clubhead is always constant.
How the PowerBilt Air Force One DFX driver plays
The DFX in the name of this newest Air Force One stands for Deep Face Extreme. The face is 5mm deeper (higher) than the previous version, and the club inspires confidence at address.
During testing, I found a noticeable difference in feel and sound between balls struck in the sweet spot compared to ones struck a bit low on the face or out toward the toe or heel.
As for power, the Air Force One DFX has plenty.
On the 510-yard third hole of my home course, I decided to pull driver (which I haven't done there in years) to try to take advantage of a good tailwind. Next thing I knew, I felt and heard the ball contact the sweet spot, and watched the ball rocket down the fairway and over the hill. For my second shot, I had 190 yards left to the green.
PowerBilt's Air Force One DFX driver: The verdict
PowerBilt's Air Force One DFX driver ($250-$300) represents serious competition to better-known companies' 2014 drivers. The stock Fujikura Motore F3 shaft is excellent, and the matte black crow and scalloped heel and toe portions of the sole all just look pretty tough.
Off-center hits have a distinct "clinky" sound, but distance did not appear to be compromised too much. And when you do catch a drive in the sweet spot, the ball leaves the face like a tracer bullet.
For more information, visit powerbilt.com.
July 8, 2014
Kiel Christianson has lived, worked, traveled and golfed extensively on three continents. As senior writer and equipment editor for WorldGolf.com, he has reviewed courses, resorts, and golf academies from California to Ireland, including his home course, Lake of the Woods G.C. in Mahomet, Ill. Read his golf blog here and follow him on Twitter @GolfWriterKiel.