Pinnacle diversifies and upgrades golf ball line

By
Kiel Christianson
,
Senior Writer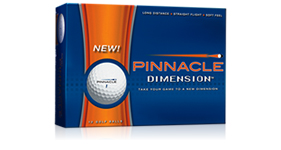 View large image | More photos
The new Pinnacle Dimension balls have a larger, softer core, delivering distance and feel for more discerning golfers. (Courtesy of Pinnacle)
There are some good golf balls out there that have some undeserved bad reputations. One of those brands is Pinnacle, which for years was considered by many to be nothing more than a rock-hard distance ball.
In fact, I remember some 30 years ago when my grandfather gave me a sleeve of Pinnacles because they were so tough that he figured even I couldn't leave a smiley-face in them (he was wrong about that).
What many golfers don't know, though, is that Pinnacle balls are made by Acushnet, the same folks who provide so many PGA Tour pros with Titleist ProV1s. So much of the same technology that goes into the Titleist line also goes into Pinnacles, but it's available for a much lower price.
Pinnacle's 2010 line-up maintains the hallmark dedication to distance, but also features several models with a soft feel.
The Pinnacle Gold Distance ($18/15 balls) is the Pinnacle familiar to many of us, which features a high spin rate for more carry and that old "cut-proof durability."
The Pinnacle Gold Precision, ($18/15 balls) on the other hand, promises more feel around the greens, and a lower, straighter ball flight.
The new Pinnacle Dimension ($18/dozen) has a larger, softer core than the Gold models, with a thinner Ionomer cover.
Also new for 2010 is the Pinnacle Exception ($25/20 balls), targeted at low-handicap players who are seeking a value-priced option.
For women golfers, the new Pinnacle Ribbon ($18/15 balls) promises the same "long distance with soft feel" that the Gold Precision offers men. In addition, these Ribbon balls feature a ribbon logo (hence the name) in support of the Susan G. Komen for the Cure Foundation. And for a bit of extra flair, the Ribbon also comes in a model with a lavender pearl cover.
My grandfather probably wouldn't even recognize the Pinnacles of today, given the vastly improved quality and variety compared to what was available in his day. But he'd be glad to see I was still smart enough to play a durable, value-priced ball - even the ones with the pink ribbons and pearly lavender covers.
For more information, visit www.pinnaclegolf.com.

More photos
«
»
November 12, 2009
Kiel Christianson has lived, worked, traveled and golfed extensively on three continents. As senior writer and equipment editor for WorldGolf.com, he has reviewed courses, resorts, and golf academies from California to Ireland, including his home course, Lake of the Woods G.C. in Mahomet, Ill. Read his golf blog here and follow him on Twitter @GolfWriterKiel.