Pinemeadow's Doublewall driver offers distance and forgiveness

By
Kiel Christianson
,
Senior Writer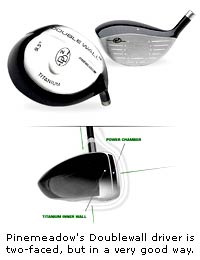 CHAMPAIGN, Ill. - So let's face it: The USGA has limited legal driver size to 460cc and the COR restriction effectively limits distance for all of us average golfers who cannot continually tweak equipment specs to precisely fit our swings. So now that size-related technology has been reined in (somewhat), what's the next equipment craze going to be?
Control.
Face it. It doesn't matter how far you hit that driver if you're bouncing balls off of the McMansions lining the fairways.
Pinemeadow Golf (doublewall.com) has been working on a driver since 1998 that bucks the trend toward springy, thin-faced clubs. The Pinemeadow Doublewall (MSRP $299) incorporates a second inner face behind the clubface, which the company says provides a more rigid, more solid striking surface. The result, they say, is the biggest sweet spot in golf, i.e., more control.
Interestingly, another smaller yet well-respected equipment company, KZG, also has a two-faced driver on the market, the Gemini. The design of KZG's offering is also supposed to increase control. And if more companies are smart, they'll move from distance to control in the near future as well.
How it plays
We tested the 360cc Pinemeadow Doublewall with 9.5 degrees of loft and a regular-flex Aldila NV shaft. One thing that is immediately noticeable is the somewhat lower profile of the Doublewall compared to other larger headed drivers on the market. The face height of 51mm allows you to use standard-length tees and, in my opinion, makes it easier to get the ball height right every time you tee it up.
Another feature that you see right away is the slight draw-bias at set-up; the Doublewall sets up slightly closed. This is great for your average golfer, who tends to fight a slice. For your average golf writer who fights a hook more often than Peter Pan, well, let's just say I had quite the draw working at times with this driver.
Dave Huber, head professional at Lake of the Woods Golf Course also noted the draw bias, as well as the remarkable, piercing ball flight. "That ball would roll a mile," he said after launching one with the Doublewall.
The verdict
Can you still hit ugly slices and hooks with the Doublewall? Well, I don't know if you can, but I sure can.
Nevertheless, the Doublewall produced a straight, long (if a touch low) ball-flight, irrespective of where the ball was struck on the face. This control, of course, is the heart of the theory behind the two-wall technology.
Personally, I cannot wait to see what they come out with next that once and for all will keep me out of the yards (and windows!) of all those pretty houses lining the fairways.
DoubleWall shaft options
As every golfer should know by now, the real engine powering long drives is the shaft. It won't matter what clubhead you use if the shaft is the wrong one for your swing.
Take, for instance, the variable performance of the Pinemeadow DoubleWall driver. The model reviewed here had a regular-flex Aldila NV shaft, which delivered a lower, piercing ball flight for my rather fast swing. Subsequent range work with the exact same clubhead fitted with a regular-flex Grafalloy ProLaunch Blue shaft that was more conducive to getting the ball airborne (lower kick-point) delivered a higher ball flight and, thus, more distance.
To this end, Pinemeadow has developed in cooperation with Aldila, a proprietary line of shafts specifically for the DoubleWall clubhead. These shafts, which vary in weight (63-69 gr), flex (S, R, L, Senior), and kick-point, offer all recreational golfers the ideal fit for the club.
June 9, 2005
Kiel Christianson has lived, worked, traveled and golfed extensively on three continents. As senior writer and equipment editor for WorldGolf.com, he has reviewed courses, resorts, and golf academies from California to Ireland, including his home course, Lake of the Woods G.C. in Mahomet, Illinois. Read his golf blog here.