Penneagle Palisade: Classic mallet with advanced design

By
Kiel Christianson
,
Senior Writer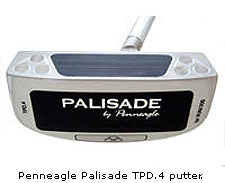 CHAMPAIGN, Ill. - This may sound like Bob Hope setting up one of his classic one-liners, but here goes, anyway:
"How about the new putters these days? They have more odd angles and unnatural parts than Joan Rivers' face." Bah-dah-dum!
Seriously, folks. I'm all for alignment aids and optimal weighting, but there must be some happy medium between form and function, between engineering and art.
For those of us who prefer a more traditional look to our flat sticks - even if those flat sticks are mallets, which aren't exactly "traditional" to begin with - Penneagle offers advanced design in a classic-looking package. Penneagle was founded in 2002 in San Mateao, Calif. by Timothy Durnin. The company's Palisade model (MSRP $169) has been collecting rave reviews since its first incarnation.
It was a banner year for the relative new-comer in 2004. The Palisade TPD.3V received a "Birdie" rating from PGATour.com and ranked second overall in the putter test conducted by About.com's golf staff.
Design Philosophy and Functionality
Durnin's goal in founding Penneagle was to improve feel and optics. The key to this is Durnin's proprietary Oppositional Weighting System.
"The Oppositional Weighting System was inspired by the concept to create a traditional mallet with a high moment of inertia," Durnin said. "I created the Oppositional Weighting System to combine both heel-toe and lateral balance. I knew of the advantage of heel-toe balance and I came up with the idea to create a back weighted perimeter to create lateral balance.
"The lateral balance lowers the putter's center of gravity that creates a higher moment of inertia for increased forgiveness."
In order to optimize balance and accuracy, Penneagle TPD putters are specially designed with a high-density tungsten back weight positioned on the center sole of the flange, high-density tungsten inserts positioned on the heel and toe of the putter, an extremely low-density Polyurethane mid-sole insert and a lightweight aluminum face insert.
Thus, "OWS creates a unique combination of heel-toe and lateral balance resulting in a higher moment of inertia, increased topspin and a truer roll," Durnin said.
Alignment is aided by an "I-ball" on the flange directly behind the face. This approximates the side of a golf ball and includes a line perpendicular to the face. The TPD.3V model also incorporates a patented "V-site," a v-shaped notch behind the face that creates a sight line to frame the ball. The TPD.4 model we tested did not have this feature, however.
How It Plays
We took the Palisade TPD.4 out to the practice green and the course and were very impressed by the solid feel. Unlike many insert putters, the ball comes off of the Palisade very crisply. Where the insert is felt most is in the feedback: Putts on the sweet spot are truly pure. If you miss the sweet spot, however, you feel it.
This sort of precise, obvious feedback is crucial to improving one's putting and building a repeatable, dependable stroke. The nice thing about even the off-center strikes with the Palisade, though, is that the advanced weighting system ensured that even these poorly struck putts didn't suffer too terribly from the bad contact. We noticed very slight, if any, decrement in distance control or directional control even on those putts that did not come off of the sweet spot.
Distance control on long putts was especially notable with the Palisade. After several hours of practice putting, it seemed like just about everything ended up less than three feet from the cup, no matter how far away we started. Short putts were helped by the alignment aids, but not noticeably better than most mallets with alignment aids.
What sells the Palisade are the exceptional feel, thanks to the outstanding weighting scheme, and the understated, uncontrived good looks. Joan Rivers, take note.
More Information
Penneagle Golf
penneagle.com
Phone: (650) 342-5100
July 12, 2005
Kiel Christianson has lived, worked, traveled and golfed extensively on three continents. As senior writer and equipment editor for WorldGolf.com, he has reviewed courses, resorts, and golf academies from California to Ireland, including his home course, Lake of the Woods G.C. in Mahomet, Ill. Read his golf blog here and follow him on Twitter @GolfWriterKiel.