Ogio Chamber Cart Bag is a high-tech staff golf bag

By
Kiel Christianson
,
Senior Writer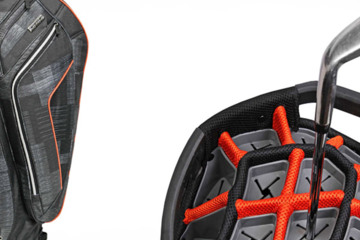 View large image
The Ogio Chamber Cart Bag is the safest, most secure cart bag on the market. (Courtesy of Ogio )
Golf bags used to be canvas or leather quiver-like sacks with a pocket or two for balls and tees. Golf bag technology, though, has kept pace with the rest of the game, and now the bags are as chock-full of features as any other piece of equipment.
The "staff bag" has always been the Cadillac of golf bags: roomy, heavy, timeless styling. Despite the evolution of lightweight carry bags, with their pop-up carbon fiber legs and waterproof fabrics, the typical staff bag hasn't changed much.
Now, Ogio has introduced an alternative to the staff bag. The Ogio Chamber Cart Bag ($300) not only incorporates all the convenience of 10 pockets (with distinct functionalities) and plush padded strap, but also introduces Silencer Technology, a revolution in club protection.
Testing the Ogio Chamber Cart Bag
The Ogio Chamber has some of the most sophisticated engineering of any bag on the market, starting with its Silencer Technology.
At the top of the bag, each of the 14 individual club bays is topped with a unique polymer membrane that holds each club in place so the heads don't -- or rather, can't -- bang together. At the bottom, visible through the clear, hard plastic Silencer base, are concentric circles of "flex grab teeth" that hold each club grip snugly.
This system is so secure that your clubs will not only not clank together or spin around, but also they won't fall out if you turn your bag completely upside down. No matter how fast you drive your golf cart or how bumpy the terrain, your clubs won't clatter together.
The Chamber bag also features the torq strap, a popular Ogio innovation for the past few years. The torq strap is a second cart strap for motorized golf carts that will hold your bag on the cart even if the main strap comes undone (or is purposely undone by a "buddy" on your next golf trip).
The Chamber is also loaded with 10 spacious pockets, including a water-resistant valuables pocket, which is molded and fleece-lined to ensure protection of valuables, an insulated cooler pocket, and the company's patented zipperless ball pocket.
The downside of all these features is that the Chamber weighs a hefty 9.8 pounds, so it really is intended for motorized golf carts. Although it will most likely fit on your push cart (it did mine), you'll expend a bit more energy pushing it around. The biggest drawback to the weight, though, conflicts somewhat with the central feature of the bag: The Silencer system is outstanding at protecting your clubs during travel. But if you're not careful, your travel bag will end up overweight when you check your luggage through to that dream golf destination. (So put those extra dozen balls, and maybe your golf shoes, in your suitcase instead.)
Ogio Chamber Cart Bag: The verdict
The Ogio Chamber Cart Bag represents the pinnacle of staff bag evolution. Although it's heavy, it has more than enough features to make up for the extra weight. And if most of your golf is played while riding a motorized cart, you won't find a safer, more secure bag for your precious sticks.
For more information, visit www.ogio.com.
June 10, 2013
Kiel Christianson has lived, worked, traveled and golfed extensively on three continents. As senior writer and equipment editor for WorldGolf.com, he has reviewed courses, resorts, and golf academies from California to Ireland, including his home course, Lake of the Woods G.C. in Mahomet, Ill. Read his golf blog here and follow him on Twitter @GolfWriterKiel.