Nike Golf's VRS Covert Forged Irons: Forged feel with forgiveness

By
Kiel Christianson
,
Senior Writer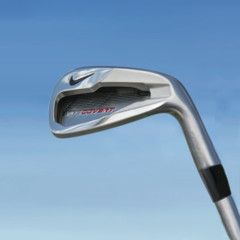 View large image | More photos
Nike Golf's VRS Covert Forged Irons represent the apex of quality game-improvement irons. (Courtesy of Nike Golf)
For decades, the term "game-improvement iron" referred to bulky castings that looked and felt more like cast iron skillets than club heads.
Slowly, golf equipment manufacturers came to the realization that double-digit handicappers are not only interested in bludgeoning the ball down the fairway. Average players actually want to feel how they are hitting the ball, so that they can learn what good shots felt like compared to bad shots, and work to develop consistent mechanics that result in the good feeling more often. And -- surprise, surprise! -- they want to try to work the ball occasionally, not just try to hit it straight every time.
These dawning revelations finally led companies to design "game-improvement" irons using forged carbon steel -- the material reserved in the past for "players" irons. Chunky top-lines were concurrently narrowed, exaggerated offsets were reduced, and club head shapes were altered to please the eye.
The new VRS Covert Forged Irons from Nike Golf ($1,099) represent the apex of this welcome trend in game-improvement iron design. The forged carbon steel is intended to provide all the feel and playability of "players" irons, but the pocket cavity and perimeter weighting are designed to provide forgiveness on off-center strikes, yet with a sleek, somewhat more traditional look.
Playing the Nike Golf VRS Covert Forged Irons
I had recently transitioned to a set of forged irons aimed at single to low-double-digit handicappers, and was skeptical that the VRS Covert could deliver the same level of workability. The very first swing I took with the VRS, however, completely allayed that concern.
I had pulled a drive on the second hole of my home course into the trees on the left, where the ball clattered around and bounced back to about 180 yards from the green. With trees in front of me, I needed to hit a long, medium-high draw to a back-left pin, and figured what the heck, I needed to see what these irons could do. I pulled the 6-iron, set up for a draw and hit a laser that flew as if it had eyes, landed just over the front bunker and rolled past the pin to the back fringe.
Sold.
Two holes later, on a par 3, I hit what initially felt would be a toe-hook -- I tend to miss my shots on the toe, and with those aforementioned irons, this often resulted in an angry hook. But looking up a second later, I realized the ball was only drifting gently to the left edge of the green.
Sold again.
If there is any real criticism of the VRS Covert Forged Irons, it is that they are perhaps a bit too powerful. I normally hit a 5-iron off the tee on the 300-yard seventh hole of my home course, as the S-shaped fairway is lined with trees on both sides that block the approach if you're not in the middle of the fairway. I took a smooth swing and caught the ball directly in the sweet spot of the VRS 5-iron. One of the best 5-irons I've ever hit in my life came to rest some 240 yards from the tee, well past the A-position (and just in front of a tree root, even).
But it is hard to complain about such explosiveness, which, according to Nike Golf, is attributable to the variable face thickness design.
Another minor quibble is that the stock red grips might not be for everyone in terms of looks, but they are very soft and extremely tacky (in terms of feel).
Nike Golf's VRS Covert Forged Irons: The verdict
The VRS Covert Forged Irons are destined to be one of Nike Golf's best sellers, even at this relatively high price point. They were recently ranked as the top performers in the club test of one of the major print golf magazines, and I agree completely.
There is plenty of power, sufficient workability and, most important for players like me, very generous forgiveness when contact is not quite on the sweet spot. In fact, I have lost count of the times I've initially groaned immediately after impact, feeling that contact wasn't great, but then looked up to see the ball just floating gently offline, rather than careening madly toward a hazard.
In short, these irons feel and play like players clubs but incorporate all of the best game-improvement technology available in the game today.
For more information, visit nikegolf.com.
More photos
«
»
May 27, 2014
Kiel Christianson has lived, worked, traveled and golfed extensively on three continents. As senior writer and equipment editor for WorldGolf.com, he has reviewed courses, resorts, and golf academies from California to Ireland, including his home course, Lake of the Woods G.C. in Mahomet, Ill. Read his golf blog here and follow him on Twitter @GolfWriterKiel.