Nike Golf's VR Pro Ltd. Edition Forged Driver is made for top players

By
Kiel Christianson
,
Senior Writer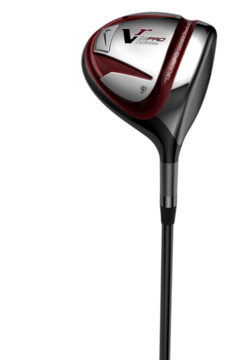 View large image | More photos
Nike's 430cc VR Pro Ltd. Edition Forged Driver provides all the control and power that top players crave. (Courtesy of Nike Golf)
Just about every golfer has that one low-handicap friend who calls draws and fades off the tee with the aplomb of a pool shark calling a combo in the corner pocket. Isn't it fun to play with that guy?
Sometimes, as you're stomping around in the rough looking for your tee shot, and he's once again waiting to walk another 40 yards up to his ball in the middle of the fairway, it's so much fun you want to bludgeon him to death with your 7-iron.
Seriously, though, it is a delight to play with highly skilled players. And it's fun to check out their equipment, too. You know, those irons with worn, dime-sized circles in their sweetspots, and that driver that seems to follow his telepathic commands?
Nike Golf's new VR Pro Ltd. Edition Forged Driver ($420) is one of those drivers, and it is already finding its way into the bags of some of the best of the best players, including PGA Tour winners such as Paul Casey and Anthony Kim.
The pear-shaped head of the Nike VR Pro Limited Edition Forged driver is 430cc and made of a forged construction that addresses the tour athlete's need -- and the needs of lesser mortals, such as single-digit handicappers -- for great feel, ultimate control and maximum workability.
The design also utilizes a new Nike innovation, NexCOR face technology, which maximizes distance for the widest range of players through a new speed-expanding, multi-face, thickness design. The NexCOR infinity design creates a bridge for an ultra-thin, ultra-hot face.
How the Nike VR Pro Ltd. Edition Forged driver plays
People ask me how I can objectively review a club if I'm having a good day or a bad day. The answer is to play many, many days with a club, and use it both on the range and on the golf course.
This said, it is harder to remain fully objective when the first un-warmed-up swing with a new driver delivers the ball 270 yards straight down the center of the fairway. Such was the case with the VR Pro Ltd.
I put the VR Pro Ltd. (10.5 degrees, stiff stock Diamana shaft) through its paces on the range, my home course and Harvester Golf Club in Rhodes, Iowa, which is Iowa's top-ranked public course. There were two main findings:
First, the touted feel and control of the VR Pro Ltd. lived up to expectations. On the range, I could draw and fade the ball with ease. On the course, of course, I could also work the ball but usually not on purpose (which is typical of my game). The feedback on center contact compared to off-center contact was stunningly precise: Center-struck balls felt like I was cutting through an al dente noodle; while off-center hits let me know immediately that I had missed the sweetspot.
Second, this difference in feel translated into a clear difference in distance. Center-struck tee shots screamed off the clubface, just as far and fast as any 460cc driver I've tested this year. Nike's patented Compression Channel, visible on the sole of the club, seems to have a great deal to do with this power.
When I missed the sweetspot, however, there was a marked decrement in distance, anywhere between 10 and 20 yards, even if the shot stayed more or less on line.
In short, the Nike VR Pro Ltd. Forged driver is ideal for skilled players who deliver the club to the ball along the same path every swing. It allows for exquisite control with potent power, bespeaking its Tour-preferred pedigree.
Nike Golf's VR Pro Ltd. Forged Driver: The verdict
This is a gorgeous, muscular driver in a relatively compact, traditional form. The profile is a bit lower, the head a bit smaller and the feel is precise. This is a driver for those players whose consistency and control most of us only wish we had.
Even the knitted, pom-pom-topped headcover says "tradition" (although it is terribly hard to get on and off).
Single-digit handicappers should take a look at the VR Pro Ltd. Forged. They might just find a degree of control and precision that they haven't experienced since the days before drivers jumped up in size from the 300cc to the 400cc range.
For more information, visit www.nikegolf.com.
More photos
«
»
November 14, 2011
Kiel Christianson has lived, worked, traveled and golfed extensively on three continents. As senior writer and equipment editor for WorldGolf.com, he has reviewed courses, resorts, and golf academies from California to Ireland, including his home course, Lake of the Woods G.C. in Mahomet, Ill. Read his golf blog here and follow him on Twitter @GolfWriterKiel.