Nike SQ Machspeed Str8-FIT driver: Nike Golf's best adjustable-face driver ever

By Kiel Christianson,
Senior Writer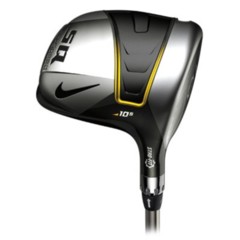 View large image
The SQ Machspeed Str8-FIT is Nike Golf's best adjustable-head driver yet, Kiel Christianson writes. (Courtesy of Nike Golf)
When Nike Golf first introduced the SasQuatch, a.k.a. SQ, line of drivers, they changed the playing field for all driver manufacturers. Suddenly, there were square clubheads, and low(er)-profile 460cc clubheads, and adjustable face angles.
Along with these tremendously successful innovations, there were a few drawbacks, like the ear-ringing clang on contact of the first SQ drivers.
But perhaps more than any other company, Nike Golf is extremely sensitive to feedback from customers, pros, and even journalists. (I was actually asked personally about my impressions of one of Nike's new golf shoes a couple of years ago.)
And all of this sensitivity, this openness to criticism and compliments alike, combined with some of the best engineers in the business, produce improvements that are far beyond incremental. Improvements -- and results -- seem to follow year after year by orders of magnitude.
The new SQ Machspeed Str8-FIT driver ($360) is yet another example of Nike Golf's continual improvement. It's not only the best feeling adjustable clubhead driver I've ever hit, it's the longest Nike driver I've ever hit.
And that's saying something.
How Nike Golf's SQ Machspeed Str8-FIT plays
Early SQ models were easy to identify on the golf course, because they were distinctly loud. The SQ Machspeed Str8-FIT still has more of a "clank" than a "tink" sound, but it is no longer offensive to the ear.
Most importantly, though, the adjustable clubhead allows players to fit the set-up to suit their eye. The adjustment system follows the scheme from the original adjustable Nike driver, the SQ Dymo Str8-FIT, including the patented wrench that looks like something off Batman's utility belt. The system isn't completely intuitive, but it's very quick and easy once you get the hang of it.
The clubface can be set to eight different angles, from 2-degrees open to 2-degrees closed. Personally, I prefer to leave the clubface square -- a set-up that is hard to find in stock non-adjustable drivers -- because I can go from hook to slice in the same round, and the adjustable face really works: opening the face alleviates hooks and closing the face counteracts slices. But if you start hitting a hook and have the face closed because the day before you were hitting a slice, very bad things can happen.
With the face set to neutral, I found the SQ Machspeed extremely easy to control. The square clubhead creates a more shallow face than traditionally shaped 460cc drivers, allowing one to tee the ball lower and control the trajectory. And hitting a draw or fade can be accomplished by adjusting the grip slightly.
As for length, once again, Nike Golf has outdone itself. I've consistently hit Nike SQ models as long or longer than other drivers I've reviewed, and the SQ Machspeed is no exception. The standard 45.75-inch shaft provides pop via simple physics, and and the shape of the clubhead, with a sort of groove around the outside circumference, is supposed to significantly reduce drag.
Most noticeably, the clubface -- especially in the sweetspot -- turns the ball into an absolute rocket. Case in point: the day I tagged a drive on a 495-yard par 5 and had only 140 yards left into the green (that's driver-PW for those of you keeping score at home).
The verdict on Nike Golf's SQ Machspeed Str8-FIT driver
Nike Golf simply outdoes itself over and over again, and the SQ Machspeed Str8-FIT is no different. From set-up, to sound, to performance, this is the best adjustable-head driver yet. So if you buy the hype on adjustable-head clubs (and I'm not completely sure that I do), this one is worth serious consideration.
For more information, visit www.nike.com.

June 7, 2010
Kiel Christianson has lived, worked, traveled and golfed extensively on three continents. As senior writer and equipment editor for WorldGolf.com, he has reviewed courses, resorts, and golf academies from California to Ireland, including his home course, Lake of the Woods G.C. in Mahomet, Ill. Read his golf blog here and follow him on Twitter @GolfWriterKiel.