Nike Golf's SQ MachSpeed Black Driver boasts respectable power, remarkable accuracy

By
Kiel Christianson
,
Senior Writer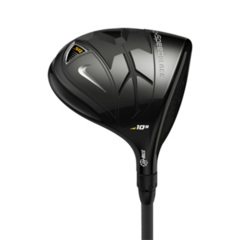 View large image
Nike Golf's SQ MachSpeed Black Driver is one of the most accurate drivers we've ever tested. (Courtesy of Nike Golf)
Last season, Nike Golf introduced the the best SQ driver model yet with its SQ MachSpeed Str8-Fit Driver.
How do you top that? Well, as it turns, not easily.
On Nov. 26, the Nike Golf SQ MachSpeed Black Driver hit the market, trying to extend Nike's streak of winning drivers. And although the overall result is positive, the newest Nike big stick doesn't blow past its predecessor like previous models.
How Nike Golf's SQ MachSpeed Black plays
We got a preview of the SQ MachSpeed Black ($360 MSRP) and must admit that right out of the box, it is one impressive club. The Black is offered with a round or square head (460cc) and features the Str8-Fit technology, just like earlier MachSpeed models. But the Black, as its name suggests, appears ultra-sleek and almost completely jet black, with just a few charcoal gray details and off-white lettering. Even the stock 45 1/2-inch Mitsubishi Rayon Fubuki shaft sports graphics in the shape of shuriken, Japanese throwing stars.
In short, the sharp looks instill confidence even before you hit the links.
Nike touts the Black's aerodynamics, promoting head speed, and deeper face, promoting lower spin. Both features are supposed to generate longer drives.
In our testing of the 10.5-degree round model, though, we didn't observe an increase in distance over last year's SQ model. The drives were respectably long, but I consistently got the impression, upon arriving at my ball, that it hadn't traveled as far down the fairway as I expected, based on the swing and contact. To be fair, maybe cool, end-of-season weather played a role, too.
On the other hand, those drives landed almost always exactly where I expected in the fairway, distance notwithstanding. More important, I found those balls where I had planned before swinging. (For anyone familiar with my game, you'll know that this is a very big deal.)
This remarkable accuracy ranked as the most impressive benefit of the new Black model.
Nike Golf's SQ MachSpeed Black Driver: The verdict
Golf-club designers are ultimately limited by basic physics and USGA rules to control distance. Nike Golf's new SQ Machspeed Black Driver cannot overcome these limits more than any other driver, no matter how sharp it looks.
But Nike Golf's crack engineers did succeed in creating one of the straightest drivers we've ever tested. And they imbued that driver with enough power to keep up with, though perhaps not surpass, predecessors and competitors.
Taken all together, we can confidently predict that good golfers will play Black.
For more information, visit www.nikegolf.com.
December 13, 2010
Kiel Christianson has lived, worked, traveled and golfed extensively on three continents. As senior writer and equipment editor for WorldGolf.com, he has reviewed courses, resorts, and golf academies from California to Ireland, including his home course, Lake of the Woods G.C. in Mahomet, Ill. Read his golf blog here and follow him on Twitter @GolfWriterKiel.