Nike Golf's Method putter scored two majors before hitting store shelves

By
Kiel Christianson
,
Senior Writer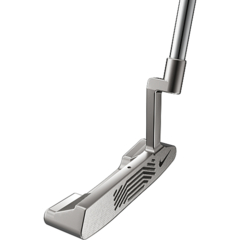 View large image
Nike Golf's Method 001 already has two majors under its belt, and it's only been on store shelves for a few months. (Courtesy of Nike Golf)
Never before in the history of golf has there been as much buzz for a new putter line as there was at the beginning of 2010 for Nike Golf's Method putters.
But then again, never before has one prototype putter won two majors in the year prior to its general release.
Such was the case with the Nike Golf Method putter, which was wielded by both Lucas Glover and Stewart Cink in their breakthrough 2009 major victories.
So when our test model of the Method 001 arrived, we must admit that we were a bit buzzed about it, too.
Nike Golf's Method putters
Method putters ($299) feature several innovative technological bells and whistles. The most noticeable of these is the Polymetal Groove Technology, which provides the Method putters with their unique rectangular insert-groove pattern. According to Nike, the flow-through polymer insert softens the feel, but the grooved metal face provides better feedback for better players who find polymer inserts too "squishy."
The flow-through polymer technology also allows for significant weight to be moved from the face to the perimeter of the putter head.
How the Method 001 putter plays
Our new Method putter was barely out of the box before we headed to the practice green.
Personally, after having moved to a mallet putter several years ago, I figured there would never be another flanged blade again that could turn my head. But the Method 001 is so sharp, so classic yet somehow so modernistic, I thought, "Maybe."
The first thing one notices about the 001 is the weighting, which provides semi-heel-balance and a very solid feel at impact. Several early putts rolled long, as I realized that the smaller clubhead didn't mean less weight than my preferred mallet model.
Another early impression is that the simple black dot behind the center of the putter face does not provide nearly as much alignment assistance as the lines, troughs, circles, and neon lights of the today's mallets. I never thought this would bother me, but that dot just seemed a bit too minimalist.
Nevertheless, the 001 set up extremely naturally, and seemed to radiate confidence.
It turns out, however, that no matter how good one feels about a putter, that feeling goes away quickly if the putts don't fall. One putt after another, both on the practice green and later on the course, drifted right of the hole, as if I couldn't get the face closed.
It may have been the added weight on the toe-end (producing the 3/4-heel-balance), or my own ineptitude at using a more traditional putter after so many years with bulky mallets. So I asked the head pro at Lake of the Woods Golf Course, who also plays a mallet, for his take on it. He loved the set-up of the 001 and drained several putts in a row with it, so I'm guessing it was just me.
In sum, although I'm not planning on switching back to a flanged blade, if I were, the Method 001 would be the one.
After all, this brand new flat stick already has a pedigree that few putters on the market can match -- or even dream of.
For more information, visit www.nikegolf.com.
May 7, 2010
Kiel Christianson has lived, worked, traveled and golfed extensively on three continents. As senior writer and equipment editor for WorldGolf.com, he has reviewed courses, resorts, and golf academies from California to Ireland, including his home course, Lake of the Woods G.C. in Mahomet, Ill. Read his golf blog here and follow him on Twitter @GolfWriterKiel.