Do the Monster mash with Ogio's second biggest golf travel cover

By Mike Bailey,
Senior Staff Writer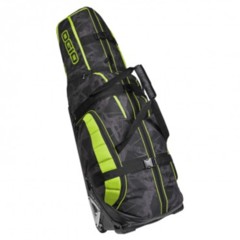 View large image
The Monster isn't the biggest travel cover offered by Ogio, but it's really big. (Courtesy of Ogio)
Traveling across the country -- and sometimes across the ponds -- the biggest hassle in taking golf trips is packing and unpacking golf clubs. And let's face it: Some covers are better than others.
The worst part comes when you return the rental car and you're running late to catch a flight. There's nothing like trying to cram your bag into a tight cover with a 45-inch driver that just doesn't want to go in. That's where a little extra room would be golden.
Well, that's exactly what you get with the Monster travel cover from Ogio. And here's the kicker: The Monster isn't even the largest one the Utah company offers. It's the second largest. But for those of us not on professional tours, it's plenty big.
Ogio's backpacking history
Ogio, by the way, has been in the golf business for a while now, producing a fine line of golf bags not only under its own brand, but also for other major golf club manufacturers.
Perhaps even more important, though, Ogio's roots are in outdoor sports, especially hiking and backpacking. The folks over there know how to make rugged equipment, tough enough to survive brutal conditions.
That's a terrific attribute when it comes to golf bag travel covers. Because airlines like to throw your golf clubs around, especially after you sign the waiver that says they're not responsible for damage because you have a soft cover.
Luckily, the Ogio Monster and even larger Ogio Mammoth are built to take such punishment. Monster features include oversized off-road wheels and two large pockets that protect shoes and other fragile items from being smashed. It also stands up straight on its own, so there's no worrying about it falling over in a security line.
There's also a separate pad inside the bag designed to protect your clubheads. It could be removed if needed, but the bag is so large that you won't have any trouble fitting your clubs in there with the pad.
The cover also comes with something called the SLED (Structural Load Equalizing Deck), which helps spread the load throughout the bag, increasing durability. It has a heavy-duty zipper, which seems fairly durable, important for the frequent traveler.
Ogio Monster: The verdict
While this travel cover is well built, sturdy and seems to protect your clubs as well as just about any soft cover on the market, the thing I like best about it is that it's easy to get your clubs in and out of it.
With many travel covers, the clubs are a tight fit, even with a lightweight stand bag. On more than one occasion, I've found myself taking five or six minutes trying to maneuver my clubs into a tight travel cover.
I don't know if the Monster is the best -- there are several excellent soft covers on the market -- but its size, quality zipper and sturdy, large wheels are excellent attributes.
At around $250, it's also priced with comparable covers. And yes, if you travel with your clubs, it's a worthy investment (remember the waivers some airlines make you sign). In the golf bag travel cover business, you really do get what you pay for.
October 12, 2012
Mike Bailey is a senior staff writer based in Houston. Focusing primarily on golf in the United States, Canada, the Caribbean and Latin America with an occasional trio to Europe and beyond, he contributes course reviews, travel stories and features as well as the occasional equipment review. An award-winning writer and past president of Texas Golf Writers Association, he has more than 25 years in the golf industry. Before accepting his current position in 2008, he was on staff at PGA Magazine, The Golfweek Group and AvidGolfer Magazine. Follow Mike on Twitter at @MikeBaileyGA and Instagram at @MikeStefanBailey.