Mizuno MP-54 irons: Take your golf game to the next level

By
Kiel Christianson
,
Senior Writer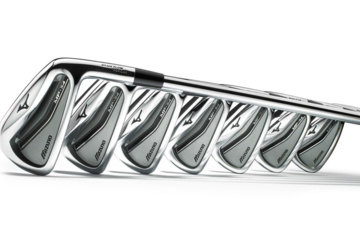 View large image | More photos
Mizuno MP-54 irons bridge the gap between players irons and game-improvement irons. (Courtesy of Mizuno)
Sometimes one starts to wonder how golf equipment manufacturers can keep moving forward. This is especially true for leaders in a given area. Take Mizuno, for example, whose irons are considered by many to be an industry leader.
Nevertheless, each year Mizuno introduces models that do more than replace previous ones. Mizuno's MP-54 irons, new in 2013, are an excellent case in point. With milled pocket cavities on 3-7i, and thickened muscle-backs on 8i-PW, Mizuno comes closest yet to melding modern forgiveness with traditional feel and workability.
The result is an iron that is ideal for players who find their handicaps falling and desire to improve their shot-making even further.
Playing the Mizuno MP-54 irons
The MP-54s embody the true "missing link" between game-improvement irons and players' irons. The grain flow forged clubheads are reminiscent of real blades in their size and look at set-up, with just a hint of thickness from the muscle-backs and pocket cavities. Importantly, shots struck in the sweet spot are milky soft -- so soft, in fact, you at first wonder if you've even hit the ball. (Or at least I did the first few times, so unused was I to such pure contact.)
Despite the "players" feel, though, the MP-54s' cavity backs and lowered center of gravity get the ball in the air easily. I actually tended to hit the MP-54s higher than the Mizuno JPX 825 Pro irons that have been in my bag since I reviewed them last year.
Why might this be? As far as I can tell, the narrower sole and somewhat sharper grind on the leading edge of the MP-54s make crisper, cleaner contact on the ball, allowing me to get one or two more grooves on the back of the ball. The way the ball hits and sticks seems to support this speculation.
The MP-54s are somewhat less forgiving than the JPX 825 Pros, especially as contact migrates out towards the toe. At worst, though, the yardage loss maxes out around 10 yards, and center-struck balls carry every bit as far as with weightier game-improvement irons. And the feedback is exquisite -- you know immediately upon contact where you struck the ball and what direction it's headed.
Mizuno's MP-54 irons: The verdict
The Mizuno MP-54 irons ($999) are balanced precisely on the edge of double-digit and single-digit handicaps. The company recommends them for players in the 0-12 handicap range, but that might be stretching the top end a little bit. I'm currently back down to an 11, but I feel like I can "play myself into" the MP-54s to fully appreciate -- and exploit -- their shot-making capabilities. Single-digit handicappers will find an ideal blend of merger of form, function, feel, and performance from the very first shot.
For more information, visit mizunousa.com.
More photos
«
»
December 11, 2013
Kiel Christianson has lived, worked, traveled and golfed extensively on three continents. As senior writer and equipment editor for WorldGolf.com, he has reviewed courses, resorts, and golf academies from California to Ireland, including his home course, Lake of the Woods G.C. in Mahomet, Ill. Read his golf blog here and follow him on Twitter @GolfWriterKiel.