Mizuno JPX-825 Pro Irons are the total package

By Kiel Christianson,
Senior Writer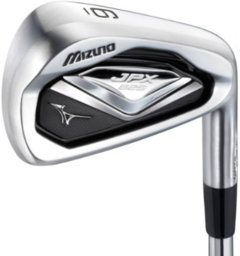 View large image
Mizuno's JPX-825 Pro Irons combine the best features of "player's" irons and "game improvement" irons. (Courtesy of Mizuno)
Last summer I found a set of forged irons that progressed from cavity-backed long irons through muscle-backed mid irons to blade short irons.
Despite my low double-digit handicap -- and occasionally erratic ball-striking -- I hit these irons well. Thanks to a few rounds in which I pured nearly every iron shot, I convinced myself that I was finally moving beyond the need for any sort of true "game improvement" iron.
Then, as always seems to happen with us chronic double-digit handicappers, something began to go wrong. I'm not sure what exactly, but something small and imperceptible changed in my swing. I started hooking the ball again, and no matter what I tried, ball contact migrated more toward the toe of my club.
The question then became whether I would benefit from moving back to "game improvement" irons. I didn't want to give up the sleek toplines of my progressive set, or the feel and workability of forged steel. Never again would I go back to irons that look like skillets on sticks.
The answer, happily enough, arrived in the form of the new Mizuno JPX-825 Pro Irons. Marketed to players with 6-18 handicaps, the JPX-825 Pro Irons feature heel-toe weighting and a more reactive face, characteristic of typical game-improvement irons.
On the other hand, they also have a thinner topline than Mizuno's standard JPX-825 Irons (or any other game-improvement irons), a narrower sole, smaller clubhead size and Grain Flow forged steel, all of which combine for the look, feel and maneuverability of more typical "player's" irons.
How the Mizuno JPX-825 Pro Irons play
The JPX-825 Pros are sharp-looking, and, despite a somewhat more pronounced progressive offset (ranging from 0.106–0.176 inches) than my previous combo irons, they were easy to align. Likewise, the topline of the JPX-825 Pros are a touch wider than irons intended for low-handicappers, but they are not as bulky as comparable irons by, e.g., Callaway and Ping.
On the golf course, the performance of the JPX-825 Pros has been nothing but consistent. The forgiveness is almost startling: my off-center, toe-end contact now leads not to wicked toe-hooks, but rather gentle -- even controllable -- draws. And these occasional off-center strikes do not lose much, if any, distance. Recent rounds, during which I corrected the contact issue, have proven the JPX-825 Pros to be about 5-10 yards longer than my previous irons, too. So I feel like I can swing easier and get the same or better results.
The JPX-825s' workability was tested during my first round, when I found myself needing to hit a low, 160-yard semi-snap hook under tree branches and out over a pond to the green of the par-5 third hole of my home course. With my old blades, I knew I had the shot, but the JPX-825 Pros were so new, I didn't know how they'd perform. (Heck, I'd only taken three swings with them so far). But I figured, "What the heck? What's the fun of chipping out to the fairway?"
The ball rocketed out from under the branches over the pond, never more than 6 feet off the ground, and bent exactly as planned, toward the front-right flagstick, coming to rest in the frog-hair, just below the pin.
Sold.
As for the feel, the JPX-825 Pros aren't quite as soft as more traditional forged "player's" irons. But they provide ample feedback to let you know immediately where and how well you've struck the ball.
Mizuno JPX-825 Pro Irons: The verdict
I cannot count the number of times I've hit the Mizuno JPX-825 Pro Irons over the past half-dozen rounds and thought, "Uh-oh." Yet on all but two occasions, the off-center contact that elicited this exclamation ended up far better than I had at first feared. And the fact that so little distance is lost on these shots is still a surprise.
These irons are as forgiving as any true "game-improvement" irons I've ever tested, yet provide feel and workability close or equal to most "player's" irons. Such is their quality that they have even been spotted in the bag of at least one PGA Tour player (Charles Howell III).
The JPX-825 Pros don't come cheap, with a typical street price of around $900, but if you're looking to upgrade from a clunky set of high-handicapper irons or finally give in to the occasional need for added forgiveness, these Mizuno sticks should be high on your list of options.
For more information, visit mizunousa.com.
December 14, 2012
Kiel Christianson has lived, worked, traveled and golfed extensively on three continents. As senior writer and equipment editor for WorldGolf.com, he has reviewed courses, resorts, and golf academies from California to Ireland, including his home course, Lake of the Woods G.C. in Mahomet, Ill. Read his golf blog here and follow him on Twitter @GolfWriterKiel.