Miura Golf's Precious Edition is a tour-quality utility club

By
Kiel Christianson
,
Senior Writer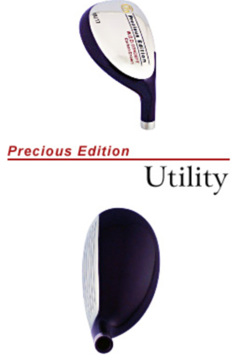 View large image
The Miura Golf Precious Edition utility club displays the same hand-crafted quality as Miura's legendary irons. (Courtesy of Miura Golf)
Katsuhiro Miura is one of the most well-respected crafters of precision golf clubs in the world. Some people in the tightly-knit fraternity of club builders have gone so far as to describe Miura-san as having god hands.
Long known for his hand-crafted, precision-forged blades and wedges, Miura-san (a.k.a., Katsuhiro Miura) has recently brought to market his first utility club, the Miura Precious Edition (MSRP $240).
Bill Holowaty, vice president of Miura Golf, explains that Miura had, for quite some time, fielded requests from his adoring iron-players to build utility clubs and woods.
"They were so happy with his irons," said Holowaty in a recent phone interview. "Mr. Miura wanted to make sure [the utility clubs] were tour-quality."
The Precious Edition, with its noticeably weighty, deep maroon clubhead, certainly feels like a player's utility club.
"It is heavier than most utility clubs," confirmed Holowaty. "Mr. Miura wanted to make sure that better players, with faster swing-speeds, did not lose the feel of the clubhead."
At the same time, however, one immediately notices that the clubhead is slightly offset from the shaft. According to Holowaty, "Mr. Miura also wanted to provide playability for all golfers."
How the Miura Precious Edition utility club plays
When I first set up with Mr. Miura's god-handiwork, I must admit that I felt suddenly instilled with power. The slightly heavier clubhead combined with the club's handsome profile and somewhat shorter than expected shaft made me feel like I was wielding a war club worthy of the bravest ninja warrior.
I believe this massive surge of machismo was my downfall. I launched a towering, incredibly long hook OB. Sigh ...
After a few more shots, I realized that the UST Tour AD 65gr stiff shaft in my 23-degree utility was not stiff enough, and it was only by swinging very slowly that I was able to straighten out my shots. On the other hand, I found myself hitting 220+ yards with the Precious Edition, which is a distance I reach only occasionally with my normal 21-degree utility. The ball trajectory was far higher and the landing softer, as well.
Because the shaft in my test model didn't quite fit me, I asked a range of golfers to give the Miura utility a try. One senior golfer with a 20 handicap, who prefers regular shafts, hit the Miura nearly as far off the tee as with his 2-wood - close to 200 yards. Another senior golfer, but with a 10 handicap, also sent the ball about 180 yards, this time off the turf. And finally, a 16-handicap, who plays some stiff shafts and some regular shafts, blasted a ball out past some fairway bunkers at his home course, which are normally out of range for any club other than his driver.
More importantly, each and every one of these golfers hit the ball very straight.
Interestingly, the 10-handicap was an old-school golfer who still plays muscle-back blades and putts lights-out with an original Bulls-Eye putter. He had never hit a utility before.
"You really just need to swing smooth with that club," he commented after his shot. "It's heavy, so you feel like you can hit it a mile. But you have to keep it under control. It makes me think maybe I should consider a utility club."
The verdict on Miura Golf's Precious Edition utility club
The Miura Precious Edition is undeniably a top-of-the-line utility club, and the rather salty MSRP reflects that quality. But in this case, you get what you pay for.
Miura-san's first utility club is spectacularly long and solid. The ball explodes off the face, even with the easiest of swings. The company usually custom-fits golfers, and has an extensive network of club-customizing professionals throughout North America and Asia, which can be accessed via the Miura website. In my case - i.e., the case of someone who just can't swing easy no matter how hard he tries - a shaft-fitting would have been advisable.
For serious golfers, the Miura Precious edition utility club - and all the Precious Edition woods and Miura irons, for that matter - are to regular golf clubs what the finest sashimi is to a catfish sandwich.
For more information, visit www.miuragolf.com.
November 4, 2009
Kiel Christianson has lived, worked, traveled and golfed extensively on three continents. As senior writer and equipment editor for WorldGolf.com, he has reviewed courses, resorts, and golf academies from California to Ireland, including his home course, Lake of the Woods G.C. in Mahomet, Ill. Read his golf blog here and follow him on Twitter @GolfWriterKiel.