All natural Martin Golf Apparel bucks the synthetic fabric trend

By Kiel Christianson,
Senior Writer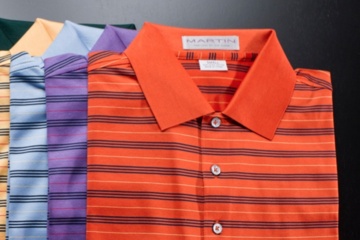 View large image | More photos
Martin Golf Apparel shirts look as good off the course as they do on the course. (Courtesy of Marting Golf Apparel)
It seems like every golf shirt manufacturer is touting their high-tech, synthetic fabrics. Many of the shirts made out of these whiz-bang threads come in lots of bright, bold colors and patterns that are beginning to resemble sports uniforms, emblazoned prominently with logos and names.
This past summer, when many days were just slightly cooler than the inside of a Coleman gas grill set to high, there were numerous times when I was glad for the moisture-wicking materials used in most of these shirts.
But I also worried that the polyester fabric would melt right onto my skin in the blazing sun.
On a more serious note, it began to occur to me over the past few years that the closest I come to "dressing up" anymore is on the golf course. And when the rare occasion arises to which I cannot wear shorts, sandals and a T-shirt, I reach for my golf clothes: khakis and a polo shirt. At the same time, I also realized that these shiny, plastic shirts are not appropriate for weddings, funerals or work.
Enter Rick Martin, founder and CEO of Martin Golf Apparel, the only golf apparel house that uses only natural fibers -- specifically 100-percent Pima cotton -- with no synthetic fibers in any of the company's products.
Martin said this unique philosophy toward natural fibers is one thing that sets Martin Golf Apparel apart from its competitors.
"Many of those 'modern fabrics' look like a costume," Martin said. "When you get a little bit older, you need something to wear to more places. Our shirts look good, with any neutral bottom, in lots of places other than the golf course."
Martin Golf Apparel's proprietary double-mercerization
Sure enough, after receiving a couple of Martin Golf Apparel shirts, I found myself reaching for them over and over again. And not only for my weekend rounds, but also for dinner out with my wife, for giving talks at conferences, and yes, even for a wedding. None of my other golf shirts felt appropriate for these situations.
Happily, no matter how many times I wore and subsequently washed my Martin Golf Apparel shirts, they never lost their sheen or shape. The secret to this kind of quality is the proprietary double-mercerization method used by Martin Golf Apparel.
"We treat both the yarn and the finished fabric," Martin said. "It's an immersion process that locks in the luster and makes the shirt resistant to shrinking. Our shrinkage is 2 percent or less."
Indeed, it became very clear that no matter how many times I washed my Martin Golf Apparel shirts, or how many rounds in the near supernova summer sun I played, they neither shrunk nor faded.
This was in stark contrast to several other "designer" natural fiber golf shirts I own, which shrank after one wash to a size that nearly fits my 9-year-old son. The Martin Golf Apparel shirts really do look just as good now after a summer of consistent wear as they did when they came out of the package.
The only drawback to the luxurious lisle Pima cotton and rich color palette is that sweat spots clearly showed up on the shirts. But, given the amount of sweat produced by the heat, after a couple holes the entire shirt was soaked through nice and evenly.
If you hadn't heard of Martin Golf Apparel before now, you have a good excuse. The company doesn't sell online or direct to customers, nor does it market to any store chains.
"Our sole focus is on the PGA Professional," Martin said. "The members of those clubs drive the bus. We market to PGA pros with a particular, loyal clientele in mind. These guys are 40-something, and will buy Martin as long as they play golf -- even longer. This limited focus allows us to concentrate on design lines, colors and quality."
This focus is evident in the comfort and feel of Martin shirts. Even the sleeve cut is different from most of Martin's competitors; Martin uses a J-cut sleeve, rather than the more common C-cut. Martin pointed out that most people might not know what this means, but explained, "This is why you won't see golfers picking at their shoulder or sleeve before they swing. The J-cut fits better."
Synthetic fabrics have their place, but the craftsmanship that is evident in Martin Golf Apparel shirts ensure that they are appropriate for many more places, and perform as well or better on the course, too.
For more information, visit www.martingolfapparel.com.
More photos
«
»
November 29, 2012
Kiel Christianson has lived, worked, traveled and golfed extensively on three continents. As senior writer and equipment editor for WorldGolf.com, he has reviewed courses, resorts, and golf academies from California to Ireland, including his home course, Lake of the Woods G.C. in Mahomet, Ill. Read his golf blog here and follow him on Twitter @GolfWriterKiel.