MacGregor MT Pro-C forged cavity back irons: Too good for many of us

By
Kiel Christianson
,
Equipment Editor and Senior Writer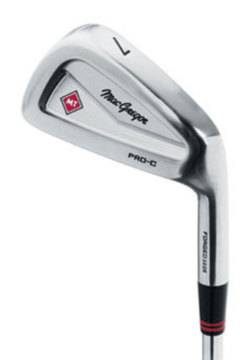 View large image
MacGregor's MT Pro-C irons are ideal for low-handicappers who want some forgiveness with blade-like feel and workability. (Courtesy of MacGregor Golf)
The MacGregor MT Pro-C forged cavity back irons are long, workable and absolutely gorgeous. And, frankly, too good for the average golfer's game.
Many moons ago, I dated a few women who were just plain too pretty for me. Too good for me, frankly. They were the sort of women who turned every guy's head (and many girls' heads, too) when they walked into a bar. Then those same heads would swivel my way, tilt to one side sort of like the RCA puppy and think, "What's she doing with him?"
Every now and then, a golf equipment company sends me some sticks that make me feel that same way.
Caddies and club-cleaners look at my bag, see a set of shiny forged irons, note the contact marks all over the face of each, and think, "What's he doing with these?"
Take, for example, the new MacGregor MT Pro-C forged cavity back irons: They're just too pretty for my game.
How the MT Pro-Cs play, and who they're for
Now, I'm not a terrible golfer. Let's just say that my handicap would be about the right age to be a huge Miley Cyrus fan. Still, my ball-striking is inconsistent enough to warrant some moderate game-improvement irons.
The MacGregor MT Pro-Cs ($800, PW-3) are oh-so-close to being right for me. These raging beauties are forged from super-soft 1025 carbon steel and feature a CNC-milled cavity back and slight offset. This all makes them vastly more forgiving than the company's MT Pro-M muscle-back blades.
Nevertheless, compared to more player-friendly irons, the MT Pro-Cs look tiny at address and suffer on off-center hits in terms of distance and control.
But, oh, on well-struck shots, make no mistake: You can do anything you try to with the ball. Moreover, distance is every bit as good as larger, game-improvement clubs with far more mass. When I struck the ball on the sweetspot, I could cut and draw it, hit it high or low. And nothing looks better in the air than a high, 200-yard draw with a 5-iron.
Those heads were turning and looking at me, dammit.
To be honest, on those perfect shots, I felt almost worthy of these gorgeous clubs, with their perky, shiny heads and sleek black-and-red grips.
Then reality would set in with a toe- or heel-shot, and my hands would sting and my teeth rattle, and the ball would squirt out into the rough, and I'd remember why I don't get paid to play golf.
Just to be certain that these clubs are, in fact, intended for players more worthy - and skilled - than myself, I asked Dave Huber, PGA Professional at Lake of the Woods Golf Course in Mahomet, Ill., to turn his well-trained, professional eye toward the Pro-Cs and offer up an evaluation.
"Now," smiled Huber, "these are some nice-looking clubs. I could play these."
The verdict on MacGregor's MT Pro-C irons
With a little work, a better swing, maybe a new wardrobe, sports car and some cosmetic surgery, I could be worthy of these beauties. You know, before they grow bored with my quirky humor and ability to carry heavy things up and down stairs. Before they realize my best friend is a better golfer and better-looking.
Sigh ... just like those women back in college.
Then again, it's probably not worth it. (Again, just like those women.) I know, though, that the MacGregor MT Pro-Cs will make some low-single-digit-handicap doctor or lawyer with a flawless smile and a Porsche very happy someday.
And I wish them the best.
For more information, visit www.macgregorgolf.com.
July 21, 2008
Kiel Christianson has lived, worked, traveled and golfed extensively on three continents. As senior writer and equipment editor for WorldGolf.com, he has reviewed courses, resorts, and golf academies from California to Ireland, including his home course, Lake of the Woods G.C. in Mahomet, Illinois. Read his golf blog here.