KZG's first oversize irons deliver forgiveness and performance

By
Kiel Christianson
,
Senior Writer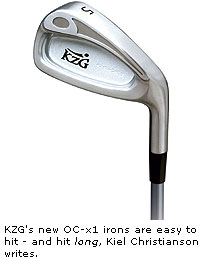 CHAMPAIGN, Ill. - My modus operandi in doing equipment reviews is as follows: I go out and hit the clubs myself at the range, trying to get a feel for which type of player they would be best suited to. Next, I find a few players at the range and in my circle of acquaintances for whom I think the clubs would work, along with some I think they would not suit, and ask them to hit the clubs. Finally, I have some local professionals give them a go, bouncing my evaluations off of them to see if they concur.
I will be honest here, though: I have not let anyone else hit the new KZG OC-x1 irons (MSRP $479 steel/$579 graphite) I recently received for review.
And I ain't gonna, either. These are staying right in my bag.
How they play
According to Lisa Jadon of KZG Golf, the OC-x1 irons "were specifically designed for the slower swing-speed player and higher handicap players. We designed them to be as forgiving as possible."
The club heads are large, hence the forgiveness. And the offset is less progressive, more consistent, throughout the set, which helps higher handicap players get their hands shut at impact. Yet the top line is relatively thin, despite the oversize club head.
One important point is that despite the fact that these irons were designed for less skilled players with slower swings, they are not ill-suited for mid- to low-handicap players. Dave Huber, head professional at Lake of the Woods Golf Course in Mahomet, Ill., hit the OC-x1 irons on the range and immediately began piping range balls. (Okay, so I let one guy try them out - but that's it.)
Likewise, my swing is anything but slow, yet I find I hit these irons with considerable consistency, even though my contact is often not on the sweet spot. The offset does not seem to exacerbate my tendencies to hook the ball. The ball flight is high and long.
One issue is the weight of the clubs. Between the large, almost shovel-like heads and the 125-gram shafts, these are not light weight by any stretch of the imagination. In order to play with them, a certain amount of forearm strength is required.
The verdict
Again, breaking with tradition, I am simply going to report what I have found with these irons.
I just returned from a trip to Ireland. On the 10th hole of Tralee Golf Club, a solid drive left me 160 yards from a back pin, with the wind slightly in my face. The caddy - who never did quite get a feel for the length of my game - suggested a 7-iron, if not a 6-iron. I pulled an 8-iron, and he looked doubtful. I pured it, and while he began telling it to get up, I was telling it to get down. For the fifth time to that point in the round, I flew the green and had a delicate ship downhill from the rough to try to save par.
The other caddy, who had shepherded more than a few tour pros and celebrity golfers around those same links looked at my club selection and muttered, "Nobody should be able to hit an 8-iron that (expletive deleted) far."
No, I am not taking these irons out of my bag. Not even in the name of journalistic standards.
For more information
KZG Golf: kzggolf.com
August 10, 2005
Kiel Christianson has lived, worked, traveled and golfed extensively on three continents. As senior writer and equipment editor for WorldGolf.com, he has reviewed courses, resorts, and golf academies from California to Ireland, including his home course, Lake of the Woods G.C. in Mahomet, Ill. Read his golf blog here and follow him on Twitter @GolfWriterKiel.