Krank Golf drivers are all the Rage among long-drive competitors

By
Kiel Christianson
,
Senior Writer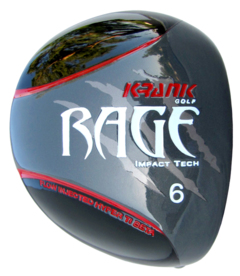 View large image
Krank Golf's Rage driver is a new favorite among long-drive competitors. (Courtesy of Krank Golf)
If you're a fan of the RE/MAX Long Drive Championships, you've probably noticed how many of the competitors who show up in the finals of this and other long-drive events play golf clubs that are not made by the well-known, big-name equipment companies.
Some of the most popular big sticks among the freaks of nature who compete in these events are made by Krank Golf, a Tempe, Ariz.-based outfit that was founded in 2002. In a short period of time it has built an enormous reputation, thanks in part to the enormous drives that are hit each year with Krank Golf clubs.
For example, in 2008, 63-year-old NBA Hall of Famer Rick Barry used a Krank Golf driver to win the Grand Champion Division at the RE/MAX with a top drive of 373 yards. In fact, Krank Golf drivers were used by the first, second, third, fourth, sixth, and seventh-place finishers in 2008 in the Grand Champion Division. The 2007 World Long Drive Champion, Mike Dobbyn, is also on the Krank Golf team.
What makes Krank Golf, which is certainly lesser known in general golfing circles, so formidable in the long-drive world?
Well, for one thing, Krank Golf founder and president Lance Reader once hit a world-record drive of 526 yards in a 2004 competition. In other words, the guy knows what he's talking about.
This year, Krank Golf introduced its newest bazooka-on-a-stick, called (appropriately enough) "Rage." In the 2009 RE/MAX event, Mike Adams came in fourth in the Men's Open division wielding a Rage. His longest drive: 418 yards.
Needless to say, after a phone-fitting by Reader himself, I was eager to get my new Rage into my hands and onto the first tee.
How the Krank Golf Rage plays
When the 46-inch, 10.5-degree Rage arrived, complete with a stiff Fujikura Diesel shaft ($349, assembled), I literally sprinted to my car to get to the golf course. Never mind that the weather was 45 degrees with a steady drizzle.
On the first tee, after a few cursory stretches, I took a cut at my ball and upon impact blurted out, "Oh, crap." You see, I was expecting to hear what I normally hear every time I hit one of the big 460cc drivers that come out every year: a semi-deafening CLANK.
Instead, I heard a metallic "tink" - sort of like a sledgehammer hitting a railroad spike - and for a second feared that I had almost missed the ball. Happily, though, when I looked up, I watched my ball sailing straight and true nearly 300 yards through the air.
The Rage's black, gray, and red clubhead has a deep, grooveless face and for some reason looks more compact than 460cc. It feels a bit heavier than most recent drivers I've tested, but the sturdy constitution of the clubhead produces this very appealing aural feedback that just naturally sounds solid.
According to Reader, a big selling point on the Rage is not just its length, but also its accuracy. "It doesn't do any good for our [LDA] players to hit it long if it's OB," he said as he was fitting me over the phone.
I must confess, however, that my late-season swing is a bit unpredictable, so there were certainly times when hitting the fairway seemed difficult with the Rage - but this was almost as certainly not the club's fault. Despite the balkiness of my autumn game, the Rage produced some of the longest drives I've hit on certain holes of my home course, including a 295-yard bomb into a light breeze on the uphill ninth hole.
In short, the Krank Golf Rage is a prodigious weapon.
Krank Golf's Rage driver: The verdict
The Rage isn't made by the biggest company in golf, but it produces some mighty big drives. I cannot say that I have never hit any other driver farther, but I can say that I have never hit another driver that sounds, feels, looks, and performs as solidly all in one package (and at a relatively moderate price).
Krank Golf, like any company seeking fame in the long-drive world, has plenty of attitude, and this is apparent from the headcover that comes with the Rage: black and red with a red devil's head on the top, red chili peppers stitched on the sides, and the phrase "Some Like it Hot!" stitched on the front.
So be prepared: If you put this beast into your bag, you'd better be ready to hunt with the big dogs, because you won't have any excuses.
For more information, visit www.krankgolf.com.

November 20, 2009
Kiel Christianson has lived, worked, traveled and golfed extensively on three continents. As senior writer and equipment editor for WorldGolf.com, he has reviewed courses, resorts, and golf academies from California to Ireland, including his home course, Lake of the Woods G.C. in Mahomet, Ill. Read his golf blog here and follow him on Twitter @GolfWriterKiel.