New pain-relieving Kool Tee a kool concept

By
Brandon Tucker
,
Managing Editor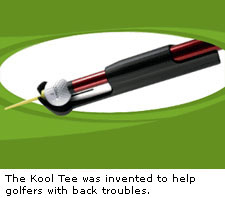 GRAND RAPIDS, Mich. -- For Pres Kool, golf just wasn't as fun anymore. A resident and former mayor of Battle Creek, Mich., Kool suffered through chronic lower back problems for the past several years and admits the most difficult part of the game wasn't putting or staying in the fairway.
It was teeing up his ball.
"I had to ask the guys in my foursome to tee my ball up for me," recalls Kool. "And I didn't like to do that."
Frustrated about his struggles, he called on lifetime friend and inventor Konrad Marcus for help. Marcus, although a golfer himself, had never designed anything for the game. Most of his works throughout his lifetime were for cars, most notably sun visors with lights. But eager for the challenge and to help his friend, he got to work.
"I started on the Kool-Tee three years ago and almost gave up on it because it seemed like such a complicated idea," admits Marcus. "But there are so many people in this condition who become demoralized. They say, 'I'm not going to play golf anymore if someone else has to tee up my ball."
In fact, Marcus estimates the product could help over 4 million people.
"We found if you ask someone in every foursome, they know someone who could benefit from this product."
How it works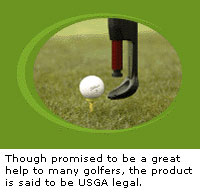 It sounds simple, but crafting a product that could stand out from previous tee-setting designs was the main goal.
"There have been people who have tried to do a product like this before," says Chuck Berghuis, sales and marketing director for Kool Tee. "They've been clumsy and unreliable. But with the Kool Tee, we really feel we got the engineering right. We're confident in its durability."
In fact, the breakthrough moment during the design stage for Marcus was when he realized exactly how humans teed their ball up.
"When we force the tee into the ground with our hand, we always keep a thumb on top of the ball to stabilize it," explains Marcus. "It wasn't until we discovered that's how you do it.so we installed a spring-loaded finger. That finger holds it there until the ball is stabilized."
Kool Tee is easy to use and has just a few steps to get the ball in the ground. First, insert the ball and the tee into the slot located in the claw. Then, set the tee at its desired height in the ground. Finally, pulling the trigger on the handle releases the ball and your ball is ready to go.
Aside from teeing the ball up, the Kool Tee also has a suction cup that can pick your ball out of the hole and a spade that lets you pick up your tee, fix divots, repair ball marks-virtually anything on the course that requires bending over.
For Kool, once he was given the final product last summer, his enjoyment for the game was back.
"Now I'm playing about ten times a month, which is more often that I had been," Kools says.
And while the Kool Tee does claim to give those with back problems an advantage, it has not been banned in any way from tournament play.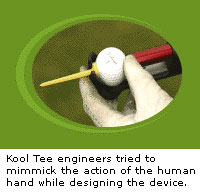 Marcus, who plays about once a week now, does not face the back problems Kool Tee is supposed to aid. . .yet.
"Who knows," Marcus says. "Maybe one day I'll have to use it myself."
Kool Tee
Extol Inc.
Retail: $89.95
http://www.kool-tee.com
(800) 324-6205

December 14, 2005
Brandon Tucker is the Managing Editor for Golf Advisor. To date, his golf travels have taken him to over two dozen countries and over 500 golf courses worldwide. While he's played some of the most prestigious courses in the world, Tucker's favorite way to play the game is on a great muni in under three hours. Follow Brandon on Twitter at @BrandonTucker and on Instagram at BrandonTuckerGC.