Honma Tour World TW737 Drivers: Soaring over the golf world

By
Kiel Christianson
,
Senior Writer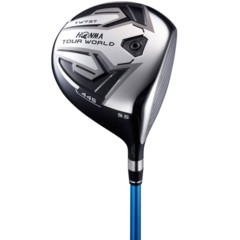 View large image | More photos
The Tour World TW737 445 Driver by Honma is ideal for working tee shots in all directions. (Courtesy of Honma)
There is a host of Japanese golf club manufacturers that most American golfers have likely never heard of: XXIO, Maruman, Miura, Katana, Kasko, Yonex, Honma -- the list is quite extensive, actually.
Some Japanese golf club manufacturers also produce other sporting equipment. Yonex, for example, is also famous for world-class tennis racquets. Mizuno -- one Japanese company most Americans are familiar with -- makes everything from soccer shin guards to volleyballs.
Others, however, focus solely on golf. Honma is one of these golf-centric companies.
Founded in 1959, Honma handcrafts all of its equipment in its enormous facility in Sakata, Japan. Honma's reputation for quality and attention to detail make its sticks some of the most widely-recognized and widely played in Japan and throughout Asia, despite prices for some drivers that soar into the thousands of dollars.
Recently, Honma decided to work toward deeper penetration of the U.S. market, with an eye toward filling some of the void created when Nike decided to pull out of the golf equipment business.
Honma is increasing its visibility to true golf fanatics with an expanding presence on various professional tours, especially among Asian players.
Honma is also more actively marketing its new line of Tour World TW737 Drivers ($500) in the U.S., hoping American golfers will develop the same appreciation for Honma's clubs as their Asian counterparts.
Playing the Honma TW737 450 and 445 Drivers
The Honma Tour World TW737 Drivers come in four models: the 460, 455, 450 and 445. The model numbers reflect the size (cc) of the clubheads. Each model comes with a choice of two stock shaft options: Honma's own Vizard shaft, in either Type-A (firmer middle and butt, softer tip, three weight options) or Type-Z (firmer middle and tip, softer butt, three weight options). Other shaft options are available.
The larger TW737 clubheads offer more forgiveness, and the smaller ones more maneuverability. I tested the TW737 450 (9.5 degrees) and TW737 445 (10.5 degrees), both with the Vizard Type-Z 60S shaft. Both models are constructed with a 6-4 TI grain-flow forged cup face and 811 Ti body. The main difference between them is the head depth and weighting. The 450 has a somewhat shallower face and slightly extended and lower back, whereas the 445 is deeper from face to back. The weight plug in the 450 is more toward the center of the sole, about twice as far back from the face as on the 445.
On the golf course and the practice range, I found both the TW737 450 and 445 to be as long as the longest drivers I've tested this year -- no worries in the power department.
And despite the difference in loft between the two, they both seemed to launch the ball at a similar height. As for control, however, I did experience a few differences.
The TW737 450 produced more spin, thanks to the lower and deeper center of gravity. For whatever reason, this extra spin translated for me into a small fade on my best shots. This is great for me, actually, because I fight a chronic hook. The problem, though, is that if I wasn't careful -- or if I tried to hit a bigger fade on purpose -- the 450 tended to overcook the fade, morphing at times into a slice.
The TW737 445, on the other hand, felt more like I had control over every shot in both directions. On the first and sixth holes of my home course (Lake of the Woods Golf Course, Mahomet, Ill.), I was able to fade the ball off the trees on the left toward the right side of the fairway. On the uphill ninth, I set up on purpose for a draw, and even with a steep swing and a semi-drop-kick, hit a solid shot to the left side of the fairway. On the par-5 12th, where OB runs along the left and a pond lurks within reach off the tee on the right -- and where I usually don't hit driver -- I striped one down the middle. (I'll ignore the snap-hook on the second, which was not the driver's fault.)
That makes three very different shot shapes in one round -- on purpose, even! (That's really the remarkable part.) And that means the Honma Tour World TW737 445 earns a spot in my rotation of favorite drivers.
Honma Tour World TW737 Drivers: The verdict
There's a big, wide golf world out there for American players to explore. Many Yanks might not have heard of Honma before, but for those of us looking for hand-crafted sticks, it is a name that we should become familiar with. Don't let the company logo, which features the bane of many a greenkeeper (a mole), confuse you. Honma is a company devoted entirely to producing the highest quality golf equipment possible.
Honma's quality comes at a relatively steep price, it is true. But as their clubs become more widely available in the U.S. and as Honma works to build a loyal following here, look for the prices to come down a bit. Look also for more club fitters to begin working with Honma, to help players get the full benefit of Honma's full lines of irons, woods, and balls (yes -- they make golf balls, too).
For more information, visit www.honmagolf.co.jp.
More photos
«
»
December 12, 2016
Kiel Christianson has lived, worked, traveled and golfed extensively on three continents. As senior writer and equipment editor for WorldGolf.com, he has reviewed courses, resorts, and golf academies from California to Ireland, including his home course, Lake of the Woods G.C. in Mahomet, Ill. Read his golf blog here and follow him on Twitter @GolfWriterKiel.