Ho-ho-hole it with his-and-hers putters from Hireko Golf this holiday

By
Kiel Christianson
,
Senior Writer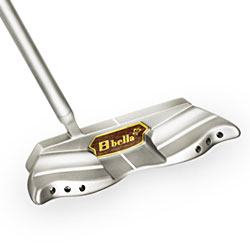 View large image | More photos
Hireko Golf's iBella Volare is a traditional ladies' putter design with extra flair (and crystals). (Courtesy of Hireko Golf)
While sappy jewelry store commercials would have you believe that your mate would simply melt upon opening matching his-and-hers rings, watches or bracelets, chances are the mixed twosomes among us would prefer something a bit more useful.
If you and your beloved would rather play 18 than stare at shiny trinkets dangling from one another's appendages, Hireko Golf has his-and-hers flatsticks this holiday season that will have you both ho-ho-holing more putts in the coming year.
Ladies first: Hireko Golf's iBella Volare putter
Last year, Hireko introduced the fashion-forward iBella Bellissima line of women's clubs. Several of the company's putters match the set nicely, but the newest one, the iBella Volare, is the sleekest and best-suited for more accomplished players.
The Volare ($41.55, assembled) is a heel/toe-balanced flanged blade with a straight shaft that meets the head 3/4 of the way to the heel. As for the uniquely shaped putter head, it is crafted to look like the wings of a butterfly at address. There is functionality in this frilly design, however, as the tips of the wings provide heel-toe weighting and greater MOI.
Oh, and if your favorite playing partner simply must have something sparkly, there are six genuine Swarovski crystals embedded in the back of the putter head/butterfly wings.
Back hair before beauty: Hireko Golf's Acer MC 4 putter
For Mister Right (as in, "Missed 'er right again! Damn this slice!"), the Acer MC 4 ($37.94, assembled) is a "modernized classic" designed to promote the more "gate-like" putting stroke of many better players.
Hireko Golf's crack research team discovered that more proficient golfers have putting strokes that travel on average three degrees inside-to-out, so the flanged-blade, heel-shafted MC 4 has no offset. Moreover, the rear flange is intentionally angled to provide a visual cue for that preferred stroke.
The matte silver clubhead also featured precision CNC milling on the face and a Winn grip, the quality of which are the same as on putters selling for up to 10 times the price.
The verdict on Hireko Golf's his-and-hers putters
For the money, you will simply not find a pair of better putters aimed at accomplished players of both genders. The only knock I can find against the iBella is trivial: The headcover is a bit small for the shapely head.
As for the MC 4, it took a while to re-acquaint myself with a more traditional putter after years of playing with a mallet, but after about a half-dozen holes (during which I kept bashing balls past the cup, overcompensating for the perceived smaller mass of the MC 4 compared to those monster mallets), it all came back to me. Putts started snuggling up nice and cozy to the hole like kiddies by the fire on Christmas Eve.
And nothing is nicer on Christmas morning than a stocking full of gimmes.
For more information, visit www.hirekogolf.com.
More photos
«
»
December 15, 2009
Kiel Christianson has lived, worked, traveled and golfed extensively on three continents. As senior writer and equipment editor for WorldGolf.com, he has reviewed courses, resorts, and golf academies from California to Ireland, including his home course, Lake of the Woods G.C. in Mahomet, Ill. Read his golf blog here and follow him on Twitter @GolfWriterKiel.