Hireko Golf's new hits: Acer XDS React hybrids and Power Play Caiman X2 Tour irons

By
Kiel Christianson
,
Senior Writer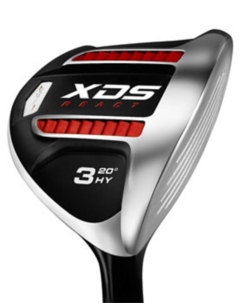 View large image | More photos
The design of the Acer XDS React Hybrids extends all the way from sand wedge through driver. (Courtesy of Hireko Golf)
Hireko Golf continues to expand and innovate, making it the go-to company for low-price, high-quality golf equipment.
Hireko Golf not only innovates its own designs under its Power Play, Acer and Dynacraft lines (among others), but also now stocks Adams and Tour Edge clubs. In short, Hireko Golf is one of the best full-stop golf shopping sites on the web.
Two recent in-house offerings, the Acer XDS React hybrids and Power Play Caiman X2 Tour irons, are excellent examples of the range of clubs by Hireko Golf targeted at very different types of players.
Hireko Golf's Acer XDS React hybrids
The expansion of hybrids from special-purpose "rescue" clubs throughout the bag has allowed high-handicappers and occasional players to hit better shots and enjoy the game more. Hireko Golf's Acer XDS React hybrids are a solid entry in the full-set hybrid category.
The XDS React hybrids range from 3-iron to sand wedge ($45 each, assembled). The React line includes fairway woods and the driver, too. As an integrated set, the React line features a consistent face progression design. This means that as loft increases, the face position moves farther out from the axis of the shaft.
This design allows players to position the ball in the same place for every club and promotes a more consistent swing throughout the set, according to Hireko Golf. It also ensures that the hosel stays well behind the clubface, making it much harder to hit a shank.
Another design feature is found on the sole of the clubs: two rails reduce drag on the turf and keep the club from digging in. All these features together make the React hybrids ideal game-improvement clubs.
Hireko Golf's Power Play Caiman X2 Tour irons
For low-handicappers, Hireko Golf's Power Play Caiman X2 Tour irons ($33 each, assembled) combine razor-thin toplines, minimal offset, considerable mass behind the sweet spot and a copper plating finish that practically cries out "player."
On center-struck shots, these irons are buttery smooth, and the copper finish somehow instills a sort of confidence that is hard to describe. (I'm not quite sure how, but they do.) They certainly draw the attention of your playing partners.
No matter your skill level, Hireko Golf has a set for you. There are bigger names, for sure, along with bigger price tags. But in terms of quality for the price, Hireko Golf is tough to beat.
For more information, visit www.hirekogolf.com.
More photos
«
»
June 6, 2012
Kiel Christianson has lived, worked, traveled and golfed extensively on three continents. As senior writer and equipment editor for WorldGolf.com, he has reviewed courses, resorts, and golf academies from California to Ireland, including his home course, Lake of the Woods G.C. in Mahomet, Ill. Read his golf blog here and follow him on Twitter @GolfWriterKiel.