Dress boldly, play boldly: Golf apparel for spring 2016

By Kiel Christianson,
Senior Writer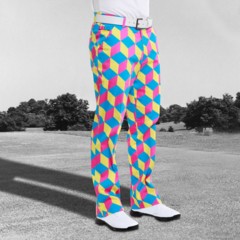 View large image | More photos
Royal & Awesome's trousers aren't just the loudest on the links; they're also the most comfortable. (Courtesy of Royal & Awesome)
Some say that we have entered a Golden Age of golf apparel. Well, at least that's what I say.
Here's why: For one thing, fabrics have gone high-tech -- they wick moisture, block UV rays and come in every conceivable color of the spectrum.
For another, the professional golfers who strut the verdant turf runways each week on TV are in better shape collectively than ever before. And they aren't afraid to project their individual personalities through their clothes.
Happily, we average golfers can do the same thing. Here's a collection of spring apparel options that allow golfers of all fashion tastes to distinguish themselves on and off the course.
PUMA
No PGA Tour player is more fashion-forward than Rickie Fowler. The Cobra/PUMA posterboy seems to relish the opportunity to shake things up with his game and his wardrobe. It's always fun to see Rickie wearing something on TV that you have in your own closet.
Case in point, the light gray Golf Tack Jacket ($95) that Rickie wore the first day of the 2016 Masters. Its PWRWARM technology is flexible and breathable but also provides excellent insulation. That same insulation tech is in the 1/4 Zip Popover jacket ($75), whose two-toned front and back geometric texturing make it look far more expensive than it is.
PUMA has a wide array of polos, but one of the most interesting design features of their new line is featured in the SS D_Vent Polo ($65; pumagolf.com), which has a vent sewn in the back between your shoulder blades.
Royal & Awesome
If you think PUMA is pushing the envelope, you haven't seen the trousers by Royal & Awesome. The U.K. company's patterns -- such as Disco Diamonds, Plaid Electric, and Par-Tee -- are as loud as a pub on half-price pint night.
My pair of Blues on the Green ($75; royalandawesome.com) might be the loudest of the loud, but they are also the most comfortable pants I own. The free shipping on internet orders is a pretty great deal, too.
Walter Hagen
If you're looking for something a bit more traditional, Walter Hagen offers well made, classic styles that reflect the dapper threads that Hagen -- the first true golf "professional" and winner of 11 majors -- was known for. The Walter Hagen Yarn Dye Stripe Polo and Perfect 11 Golf Shorts can both be found at DICK'S Sporting Goods for $50 (dickssportinggoods.com) each.
One nice feature of the Hagen threads is their somewhat more generous cut compared to, say, PUMA, whose sizes tend to run a bit snug for us -- ahem -- more well rounded folks.
Aveo
If you're really looking for a comfy fit, though, check out the inaugural line of golf wear by Aveo. The four-year-old company's motto is "Play Fearlessly," and their goal is to make golf and athletic wear that does not make bigger guys feel like they're wearing a muumuu.
They accomplish this by skillful tapering and concerted attention to the ways the proportions of larger men differ from smaller ones. Aveo also infuses all their shirts ($75; aveogolf.com) with bamboo fiber, which is stronger and holds its form better than pure polyester.
OGIO
The venerable golf bag manufacturer OGIO has recently branched out into golf apparel. Their 2016 polo line includes one of the softest, most comfortable shirts I've ever worn, the Scuff Golf Polo ($70; ogio.com/golf). Seriously, it's like wearing an angel hug.
Wallaroo
Golfers are becoming more aware of the dangers of sun exposure. One of the best ways to keep the sun off your scalp, ears and neck -- all places that tend to get overlooked when applying sunscreen -- is with a good hat. The Wallaroo Hat Company offers a huge line of hat styles for men and women, most of which are UPF 50+, and the company donates 1 percent of its profits to the Skin Cancer Foundation.
In addition, most of their hats -- such as the Cameron ($44; wallaroohats.com) fedora that I've become fond of -- can also be rolled up or crushed flat to pack.
More photos
«
»
April 11, 2016
Kiel Christianson has lived, worked, traveled and golfed extensively on three continents. As senior writer and equipment editor for WorldGolf.com, he has reviewed courses, resorts, and golf academies from California to Ireland, including his home course, Lake of the Woods G.C. in Mahomet, Ill. Read his golf blog here and follow him on Twitter @GolfWriterKiel.