Gauge Design Golf SPI-1 Devon: Classic putter design with an innovative twist

By
Kiel Christianson
,
Senior Writer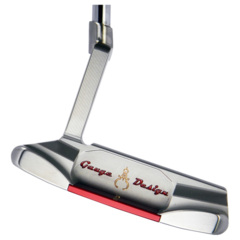 View large image | More photos
The SPI-1 Devon Putter by Gauge Design Golf looks great behind the ball. (Courtesy of Gauge Design Golf)
In Ecclesiastes 1:9 it states, "there is nothing new under the sun." Of course, this was written long before there were patent offices, where "new" is assessed, documented and protected.
It's always fun when a new golf club arrives with some notable patented innovation. Case in point: the SPI-1 Devon Putter by Gauge Design Golf ($325). Patent #6,422,950 is stamped right on the bottom of the putter's aluminum sole plate insert, and I couldn't help looking it up.
The patent was awarded to David Whitlam, designer of all Gauge Design putters, in 2002. The patented technology is the Sole Plate Insert (the "SPI" in the name) -- not in the face, but rather behind the face, where the sole and back of the Anser-style Devon is cut out and replaced with bright red (or black) 6061 aluminum.
The idea is that replacing a section of the milled 303 stainless steel putter head with lighter aluminum naturally distributes weight to the heel and toe. A simple but novel approach, which we were eager to test out on the course.
Playing the Gauge Design SPI-1 Devon Putter
The Devon has a 3/4 toe-hang, meaning that it is ideally designed for more "gate" style putters. At address, the bright red aluminum insert really frames the ball nicely, and the putter overall looks fantastic behind the ball.
Despite some skepticism that the aluminum insert behind the face would make a difference, I felt immediately how pure the contact was when the ball was struck on the sweet spot compared to off-center contact, which was not bad, simply different. The CNC milled face produces a pleasing "clack" as it contacts the ball. Speed was amazingly easy to dial in within a few putts.
I'm a sucker for new putters, though -- perhaps I was too easily impressed. So I decided to ask a discerning 5-handicap and longtime amateur club-builder, Andrew Hollingworth of Iowa City, for his opinion.
After a dozen or so rolls on the pristine greens of Forest Dunes Golf Club in Roscommon, Mich., he said, "I can't tell if it helps the ball go in the hole more often. But it really does have exceptional feel. It is remarkable how soft it feels. And at address, it looks very much like a Scotty Cameron putter. I like it a lot."
Gauge Design SPI-1 Devon Putter: The verdict
The patented sole plate insert in the Gauge Design SPI-1 Devon Putter is not just a gimmick: it really serves to heighten the feel and improve touch on long and short putts. The Devon is pricey, though, so trying before buying would be recommended. (But finding boutique putters like Gauge Design to demo can be a challenge.)
I wonder what else is in the fertile imagination of Gauge chief designer Whitlam, given that the patent covers all sorts of other materials for the sole plate insert, including plastics, rubber, wood, graphite, titanium and depleted uranium.
Depleted uranium? That really would be new. (But I'll take a pass on testing that one, thanks.)
For more information, visit www.gaugedesigngolf.com.
More photos
«
»
July 24, 2014
Kiel Christianson has lived, worked, traveled and golfed extensively on three continents. As senior writer and equipment editor for WorldGolf.com, he has reviewed courses, resorts, and golf academies from California to Ireland, including his home course, Lake of the Woods G.C. in Mahomet, Ill. Read his golf blog here and follow him on Twitter @GolfWriterKiel.