With new apparel line, Fila moves from the tennis court to the golf course

By
Kiel Christianson
,
Senior Writer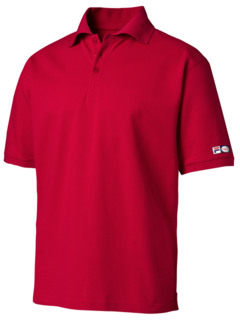 View large image
Fila Golf's new apparel line brings the iconic Italian label from the tennis court to the golf course. (Courtesy of Fila Golf)
When I was but a wee lad batting balls around my school's tennis courts, all the cool kids wore European labels. Lacoste, from France, was cool but a bit preppy for my taste. It was Fila, from Italy, that was the label of the power-serving, overhead-smashing set.
But that was all I knew of Fila, really. Since 1911, when the iconic line was founded in Italy, the company's focus has been on the tennis courts.
These days, though, Fila is turning its attention to the golf course, with a new line of golf wear for men and women looking to ace par 3s instead of serves.
Fila Golf apparel enhances the individual's athleticism by allowing the body to move freely. Created with technical, eco-friendly, moisture-wicking and antimicrobial properties, the 2010 collection blends solids, stripes and textures.
Featured throughout the line are the famous Viva Red, White and Fila Navy colors plus modern shades of Aqua, Pine, Fig and Atomic Orange. In stock year-round, the complete line retails from $20 for accessories to $120 for outerwear.
Fila Golf is worn in competition by professional golfers worldwide, including LPGA Tour star Stacy Lewis.
And a little closer to home, I donned a new Viva Red Fila polo for the second day of my club's two-man, better-ball tournament, where my teammate and I ended up sneaking into the third-place spot to finish in the money.
I'm not saying it was the Fila golf shirt that did it, but after our abysmal first day, the shirt is as good an explanation for our success as our often balky swings.
For more information, visit www.filagolf.com.
November 2, 2010
Kiel Christianson has lived, worked, traveled and golfed extensively on three continents. As senior writer and equipment editor for WorldGolf.com, he has reviewed courses, resorts, and golf academies from California to Ireland, including his home course, Lake of the Woods G.C. in Mahomet, Ill. Read his golf blog here and follow him on Twitter @GolfWriterKiel.