Fairway & Greene's fall 2010 golf apparel collections blend tradition and youth

By
Kiel Christianson
,
Senior Writer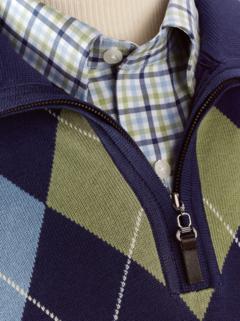 View large image | More photos
Fairway & Greene's new fall lines are designed to be worn on and off the golf course. (Courtesy of Fairway & Greene)
Golf fashion on the PGA Tour is generally driven by the young guns (cf. Rickie Fowler's head-to-toe orange outfit), Europeans (cf. Ian Poulter's Union Jack trousers), and crazy dudes (cf. John Daly's everything).
But what options are open for the weekend golfer? Cling to a fast-fading youth in a Sergio Garcia-like all-pink ensemble, or surrender to the inevitable decrepitude that is marked by rumpled khakis and billowing polo shirts?
For those of us still concerned enough with our appearance to try to strike an age-appropriate balance between today's styles and yesterday's traditions, Fairway & Greene send their 2010 fall collections into the fashion fray.
The new fall lines are composed of an extensive range of shirts, sweaters, bottoms and outerwear that can be worn on and off the golf course. The expanded selection of luxury Pureformance and F&G Tech apparel blends the latest fabric technologies with the company's time-honored classic styling. Given the younger demographic toward which golf is trending, and the decreasing importance of the private-club set to the overall market, golf apparel companies - including time-honored brands like Fairway & Greene - have had to take younger tastes into account.
"Originally our ideal customer was successful, well traveled, and belonged to two or three clubs," says Teri Martin Schleifer, Fairway & Greene's vice president, design. "As the definition of success has changed somewhat over the past year or two we can't lose sight of the fact that our customer still appreciates great quality, style, and design, but requires more choices, and we still have to be a classic Sportswear company while understanding the need to re-invent some of our products to appeal to our new customers, who are younger golfers and, in particular, the group of assistant golf professionals who serve as the company's newest ambassadors."
"Fairway & Greene needs to constantly evolve itself by using new styles, silhouettes, fabrics and colors to begin inviting new customers into our brand and we will continue to energize our base by updating those four elements," says Chris Heyn, CEO of Summit Brands, parent company of Fairway & Greene.
Heyn says, "Fairway & Greene is excited about moving to a little younger in approach and attitude. Our new customers want a certain fit that is trim, with a certain attitude that goes back to retro feel. For this consumer we will be authentic, yet relaxed, while still being true to the game."
The new collections for men are called Monterey Bay, Donegal, Savannah, and Kensington. The lines for women are named Coral Gable, Highland, and Sutton Place.
After trying out some of the new shirts and shorts, I can report firsthand that the new fabrics wear well and breathe nicely, even when walking in 90+ degree heat. The "retro feel" that Heyn mentions is especially apparent in the outwear, which feature some exquisite leather detailing and rich-looking fabrics that belie the reasonable prices.
And perhaps the best aspect of the new Fairway & Greene collections is that you feel at home in them whether walking into the lunchroom at the club or walking nine holes at the public course on Men's (or Women's) League night.
For more information, visit www.fairwayandgreene.com.
More photos
«
»
July 19, 2010
Kiel Christianson has lived, worked, traveled and golfed extensively on three continents. As senior writer and equipment editor for WorldGolf.com, he has reviewed courses, resorts, and golf academies from California to Ireland, including his home course, Lake of the Woods G.C. in Mahomet, Illinois. Read his golf blog here.