Exotics EX10 Driver: The sound and the fury

By
Kiel Christianson
,
Senior Writer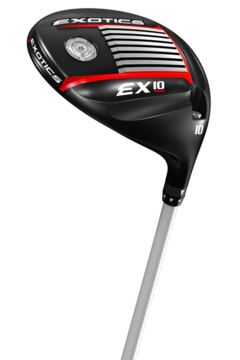 View large image
The sole of the Exotics EX10 driver features all of the engineering innovations that the company has developed over the past several years to increase clubhead speed and allow for maximum face deformation at impact. (Courtesy of Exotics Golf)
Tour Edge Exotics touts the company's "material advantage" in promoting its clubs. Case in point: The new Exotics EX10 Driver features a TSP 910 Beta Ti faceplate. I'm not sure what that exactly that name means, but Exotics is the only driver on the market with it. The driver chassis is also made of titanium, creating an exceedingly strong clubhead. According to Exotics, the special Japanese Ti faceplate allows it to be thinner and larger than ever before, creating a larger sweetspot in the process.
The materials are not the only things to constitute an upgrade to previous Exotics drivers. A new adjustment system allows the lofts of the 10-degree or 12-degree clubheads to be adjusted +/- 2 degrees (from 8 to 12, and from 10 to 14, respectively). Furthermore, there are three premium stock shaft options: Mitsubishi Bassara, Graphite Design Tour AD50, and Aldila Rogue.
Once you find your ideal loft and shaft, you can take full advantage of the new more aerodynamic clubhead (engineered to increase clubhead speed by reducing drag) and the Power Channel design of the sole (which allows the face to flex more uniformly at impact). Finally, there is a 10-gram screw housed in a 9-gram port at the back of the club sole to provide a deep center of gravity and promote higher launch with longer carry.
Playing the Exotics EX10 Driver
I took the Exotics EX10 Driver with a Graphite Design Tour AD50 shaft (street price $350) to my home course for a few rounds, as well as to the practice range. Like all Exotics drivers I've tested over the past several years, power is not a problem. There is as much "pop" in the EX10 as any other driver on the market.
Moreover, the Japanese Beta Ti face delivers this power across a wide swath of the hitting surface. Low, high, toe, and heel contact all produced acceptable distance and even reasonable accuracy. (And for many of us who contact the ball in all of the non-center areas, this is very important.)
The trade-off for the consistent power, though, seems to be flexibility in controlling ball flight. It took what felt like a lot of manipulation to turn a draw over, or to shape a fade. In addition, the sound of the EX10 was a bit loud and more metallic than most drivers I've recently hit. This is certainly easy enough to get used to, but if you're a "feel" player who relies on both auditory and tactile feedback to figure out where you're making contact, it is difficult to discern information from the relatively uniform sound and feel.
Exotics EX10 Driver: The verdict
The new Exotics EX10 Driver is a powerful beast with the bite and the bark of a big-time big dog. Players whose number one concern is power, no matter where they happen to contact the ball, would be wise to check it out. The lifetime guarantee and the fact that it is one of the few drivers available that is assembled completely in the U.S. are also good reasons to give the EX10 a test drive.
For more information, visit exoticsgolf.com.
April 28, 2017
Kiel Christianson has lived, worked, traveled and golfed extensively on three continents. As senior writer and equipment editor for WorldGolf.com, he has reviewed courses, resorts, and golf academies from California to Ireland, including his home course, Lake of the Woods G.C. in Mahomet, Ill. Read his golf blog here and follow him on Twitter @GolfWriterKiel.