Dynacraft Prophet Tour CNC forged irons are bargain-priced beauties

By
Kiel Christianson
,
Senior Writer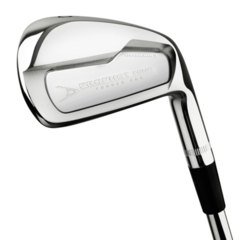 View large image
Dynacraft Prophet Tour CNC Forged irons provide power, playability, and tour-quality looks. (Courtesy of Hireko Golf)
The name Dynacraft has long been synonymous with the highest-quality component clubs in the business. This quality was not diminished in the least when Hireko Golf acquired Dynacraft several years ago. In fact, it may even have gotten better.
The Dynacraft Prophet Tour cast irons were a rousing success when they were introduced a couple years ago, so Hireko Golf decided to up the ante with a forged, CNC-milled version for single-digit handicappers looking for both workability and power. The resulting Dynacraft Prophet Tour CNC forged irons ($45 apiece, custom assembled) are arguably the least-expensive, highest-quality, tour-caliber irons on the market today.
How the Dynacraft Prophet Tour CNC forged irons play
The Dynacraft Prophet Tour CNC forged irons are a rare combination of feel and power. Each clubhead is forged from a single block of super-soft carbon steel. Weight is shifted low and to the back of the clubhead, and the CNC milling is used to create an undercut pocket between the back of the face and the bulk of the weighting. The result is remarkable feedback and a weighting system that hoists the ball well up into the air.
Out on the course, I found these irons to be almost startlingly powerful. Unlike a number of "players" irons I've tested, the high ball flight and extreme distance seemed to come naturally, without feeling like I needed to "jump" on the ball to get maximum power. Off-center contact was certainly felt, but it was not as badly penalized as it is with more traditional blades or even the newer generation of "muscle-back" blades.
In fact, I cannot think of any other forged irons I've ever seen with the same sort of low-positioned weighting scheme. It's almost like a "block" of soft, heavy carbon steel precisely behind where I normally hit the ball -- somewhat low on the face and a smidge toward the toe.
Workability was exceptional. When my swing was right, I was able to shape shots right, left, high and low. This wonderful control was especially welcome on numerous punch-outs from among the trees, where the Prophets produced some quite impressive (and extremely effective) low 30-yard hooks around trouble that found their way onto or very near the greens.
Dynacraft Prophet Tour CNC forged irons: The verdict
Super-low handicappers might object to the minimal progressive offset through the set, from 0.8 millimeters in the pitching wedge to 4.3 millimeters in the 3-iron. But for typical single-digit players, this feature adds to the appeal, providing some extra forgiveness and control.
The Dynacraft Prophet Tour CNC forged irons by Hireko Golf come with standard Apollo shafts and Karma black velvet grips. An assembled set (pitching wedge to 3-iron), including shipping and handling, will run you less than $370. There are countless big-name forged iron sets out there that cost three times this amount, but their quality and playability are no better.
For more information, visit www.hirekogolf.com.

August 2, 2011
Kiel Christianson has lived, worked, traveled and golfed extensively on three continents. As senior writer and equipment editor for WorldGolf.com, he has reviewed courses, resorts, and golf academies from California to Ireland, including his home course, Lake of the Woods G.C. in Mahomet, Ill. Read his golf blog here and follow him on Twitter @GolfWriterKiel.