Dynacraft Avatar Evolution Hybrids by Hireko Golf: All hybrids, all the time

By
Kiel Christianson
,
Senior Writer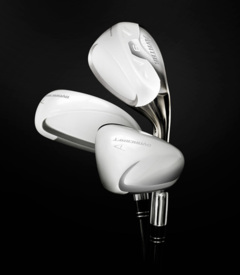 View large image | More photos
The Dynacraft Avatar Evolution Hybrids match the rest of the pearly white Avatar family. (Dynacraft Avatar Evolution Hybrids, Hireko)
Long irons are going the way of the dinosaurs, having largely been replaced in the bags of all but the most skilled golfers by hybrids.
But what about the rest of the irons? Weekend golfers often struggle to get the ball up in the air and with distance. So why not replace the entire set with hybrids?
One problem is that, due to the deeper, lower distribution of weight in hybrids and the overall added mass, not only do they hit the ball higher, they tend to hit the ball farther, too. So irons and hybrids are not always equivalent even if their lofts are the same.
The Dynacraft Avatar Evolution Hybrids by Hireko Golf are engineered to address this quandary. The Avatar Evolutions are a fully transitioned hybrid set that move from 3i all the way down to SW -- from full hybrid down to hollow-body iron.
On the higher-lofted irons (from 7i on down), the loft serves to hide the pearl-white composite crowns that cover the hollow cavities of the irons and blend the entire set together.
How the Dynacraft Avatar Evolution Hybrids play
The Dynacraft Avatar Evolution Hybrids are definitely for weekend warriors with handicaps from the upper teens on up. The precision engineering takes the guesswork out of how to organize your set, but the overall hybrid effects are clearly present: High, straight and long shots are the hallmarks of this set.
The progressive offsets and wide soles are appealing to higher handicappers. With the proper shaft fitting, this set is ideal for older players, too.
For longer players who get greedy and want to try to squeeze more distance from their irons, the higher-lofted Evolution Hybrids will be too long, leaving a giant gap between your shorted club and, well, your putter.
But if you're looking for a couple of handsome, inexpensive hybrid replacements for your 3i, 4i or 5i, the Dynacraft Avatar Evolution Hybrids by Hireko Golf are well worth the $45 (assembled) price. On top of that, they also match the rest of the pearly white Dynacraft Avatar set nicely, from drivers all the way down to putters.
For more information, visit www.hirekogolf.com.
More photos
«
»
April 16, 2012
Kiel Christianson has lived, worked, traveled and golfed extensively on three continents. As senior writer and equipment editor for WorldGolf.com, he has reviewed courses, resorts, and golf academies from California to Ireland, including his home course, Lake of the Woods G.C. in Mahomet, Ill. Read his golf blog here and follow him on Twitter @GolfWriterKiel.