With Match Play line, Columbia Sportswear Company swings into golf attire

By
Lisa Allen
,
Contributor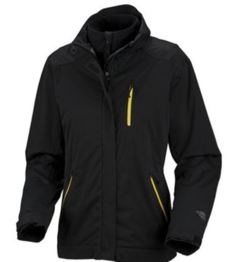 View large image | More photos
Utilizing the company's Omni-Tech technology, Columbia's Match Play Parka is waterproof and breathable. (Courtesy of Columbia Sportswear)
HILTON HEAD ISLAND, S.C. - Columbia Sportswear Company has long been known for outdoor wear, primarily for backpacking, mountain climbing and ski wear. Add to its arsenal golf clothing.
Its expertise comes in handy when one is facing brisk wind, clouds and temperatures in the 30s when teeing off in January on the Robert Cupp course at Palmetto Hall Plantation on Hilton Head Island.
When golfing, bulky clothing won't do. Thus, Columbia's Tech-Lite Titanium technology works really well, in this case, a waterproof shell and pants from the company's Match Play line. To ward off the cold, I started with a base layer, a mid layer and then the Match Play Parka ($200), which is waterproof and breathable.
Fortunately, I didn't have to investigate the waterproofing on this round, but it also functioned well as a windbreaker. It was light, soft and flexed well. I was warm but not restricted.
Columbia's Match Play golf gear: Silence on the course
Particularly, the Match Play jacket and pants weren't noisy, to me, an important attribute when seeking my usual Zen-like state on the golf course. It was an added bonus at Palmetto Hall, an Audubon-certified bird sanctuary. Can't really see the birds if the noise your waterproof gear is making scares them off.
The Match Play pants ($120), which I wore atop long underwear and warm-up pants, had a few features I really liked:
• Velcro tabs at the waist are great for cinching base layers so when you're moving around, such as squatting down to read a putt, your shirt doesn't ride up your back, exposing a yawing stripe of skin between pants and shirt. It's unsightly for others and freezing cold for me.
• The zippers about half-way up the calves make it easy to doff or don pants over your golf shoes. Something about weather – it's always changing.
• The front pockets are lined in a crazy-soft material that seems to warm one's hands upon contact.
About a week later, I tested the Match Play gear in a daylong rain. Again, the clothing functioned beautifully. It was much warmer, so the rain pants were my single layer. You'll be aware of the rubbery-sealed seams against your skin, but it wasn't overly bothersome.
The outfit breathed very well, so I never felt slimy as I have in other gear.
Columbia's Match Play golf gear: The verdict
As with most outdoor-wear companies, Columbia designs its clothing as systems. The Match Play jacket has attachment snaps for core-warm vests. The rain jacket and pants also have a plaid water-repellent cap that pulls it all together. A rain-resistant cap is key on so many days, no matter where you swing 'em.
Columbia clothing also anticipates your needs. The zipper pulls, and jumbo snaps function easily while wearing gloves. The collar on the jacket stands up in back to ward off wind or rain, but the rest of the neckline is sculpted to keep the collar from restricting head movement.
It is that degree of detail that assures ultimate value from these clothes. You can wear them for any activity, under a range of conditions. You'll get more than your money's worth.
For more information, see www.columbia.com.
More photos
«
»
February 25, 2010
Lisa Allen is a golf, travel and business writer based in Beaufort, S.C. She has edited newspapers, magazines and books in Michigan, Indiana and South Carolina. Follow her on Twitter @LAllenSC.