Clicgear Model 3.5+ pushcart is the most compact three-wheeler on the market

By
Kiel Christianson
,
Senior Writer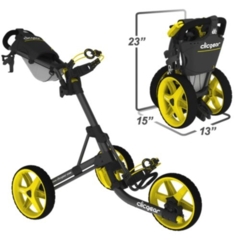 View large image
The Clicgear Model 3.5+ pushcart folds compactly and offers a ton of optional add-ons. (Courtesy of Clicgear)
One thing I love about my home course is that so many members and visitors walk. Family and friends who come to visit always remark that they don't know another course where so many people eschew motorized carts.
A few players carry their bags, but Lake of the Woods Golf Course (Mahomet, Ill.) has a few hilly holes in what is otherwise a dead-flat area of east-central Illinois, and by the end of 18, the shoulders and backs of most of us "older" guys can get pretty sore. So most of us have a pushcart. In fact, many of us consider our pushcarts to be as critical to our games as our bags, or even our clubs.
Indeed, a well outfitted pushcart makes everything easier: easier to get to the scorecard, the clubs, the pockets on your bag, and, often, your drink, your range finder, your cigar, and, um, a few more drinks.
Near the top of the list of most utilitarian and best-designed pushcarts is the new Clicgear Model 3.5+ ($220). This engineering wonder folds down smaller than any other three-wheel cart on the market, and it also offers a range of add-ons that explode its functionality.
How Clicgear Model 3.5+ performs
I took the Clicgear Model 3.5+ out for several rounds in some pretty windy, wet and cold conditions to see how it performed. I included the optional cooler bag ($40) and shoe brush ($10). The latter proved extremely useful in the mud and muck that have accrued during this year's rain-drenched "spring."
The spacious cooler bag was pretty handy, too, as a full six-pack was needed one day just to ward off the chill. (Or, rather, to get to the point where I wouldn't notice that it was 45 degrees and spitting rain.)
The Model 3.5+ has a large watertight console in the handle for valuables and a few extra balls. The outside of the console could use a pencil-holder, but that's about the only thing missing. There's a handy three-ball clip inside the compartment, too, and a nice little net for head covers. The handle itself is fully adjustable, so it will fit golfers of all heights.
The bag is held in place by two adjustable bungee cords and sits high off the ground so that even longer towels won't get tangled in the wheels or drag on the turf. There was a bit of an issue with my bag twisting as the round progressed, but it might be because my pockets are not well balanced.
When it comes to folding and unfolding the Model 3.5+, I already noted that it is more compact when folded up than any other three-wheel cart on the market. Now, getting it open and closed can be a little bit of a struggle. I've yet to quite figure out the best progression for doing it, as sometimes it seems to just pop up (or down), and other times seems to get stuck a bit.
The drink holder can get caught when folding the cart up, and the click-on accessories, such as the shoe brush and the cooler bag, need to be attached and detached at the start and end of each round. Once open, though, it's a solid, easy-rolling cart, and once closed, it fits easily into my trunk (Ford Fusion) along with my clubs and a pile of about 20 pairs of golf shoes.
Clicgear Model 3.5+: The verdict
All in all, the Clicgear Model 3.5+ is an excellent pushcart. This new version boasts a number of improvements over the previous model, including an upgraded brake system (which could break on the previous model). And the range of add-ons beyond the cooler bag and shoe brush (GPS holder $15, umbrella angle adjuster $30, valuables/rangefinder bag $20) is impressive.
And, best of all, when you use this pushcart (or any other), you get some exercise and, in my view, enjoy the game as it was meant to be played: on foot.
For more information, visit www.clicgearusa.com.
April 30, 2013
Kiel Christianson has lived, worked, traveled and golfed extensively on three continents. As senior writer and equipment editor for WorldGolf.com, he has reviewed courses, resorts, and golf academies from California to Ireland, including his home course, Lake of the Woods G.C. in Mahomet, Ill. Read his golf blog here and follow him on Twitter @GolfWriterKiel.