Cleveland Golf's Huntington Beach Collection of putters: Budget beauties

By Kiel Christianson,
Senior Writer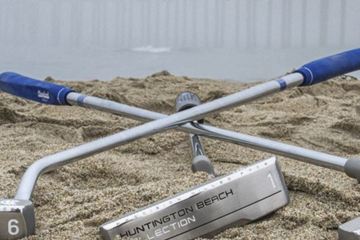 View large image | More photos
Cleveland Golf's new Huntington Beach Collection of putters delivers quality without breaking the bank. (Courtesy of Cleveland Golf)
I was paging through a major print golf magazine the other day (yes, I still subscribe to magazines; I don't like taking electronics into the bathroom), and I came across a round-up of new putters.
They all looked great, until I saw the prices: $259, $329, $400.
$400 for a putter? All I can say is this: Every single putt had better go in.
One of the perennial reasons cited for players leaving golf is the cost, including equipment costs. Most casual weekend golfers aren't going to drop four bills on a putter, and if they get the impression that those are the only options, they're going to leave the game even faster.
Cleveland Golf's new Huntington Beach Collection of putters -- the Huntington Beach 1, 4 and 6 -- were designed and constructed with budget-conscious golfers in mind.
Each model runs just $100 and can even be upgraded with an oversized Winn grip for just $10 extra.
Heck, you could buy and upgrade all three models and spring for lunch and drinks at the golf course for less than $400.
The big question, though, is whether the short-club experts at Cleveland Golf can produce a high-quality yet budget-friendly putter.
Playing Cleveland Golf's Huntington Beach 4 Putter
The Huntington Beach 1 and 4 are Anser-style putters with offset plumber's necks, while the 6 is a mid-sized mallet with a double-bend offset.
The difference between the 1 and 4 is the shapes of the toes/heels, with the 1 rounded and the 4 square. All of them feature an aggressively milled face that has almost a rasp-like texture. The rationale behind this unique design is that the rough face will, with a slight up-stroke at impact, grab the ball and get it rolling faster than most putters.
After several rounds playing the Huntington Beach 4 with the oversized Winn X grip, the most striking aspect was the effectiveness of that coarsely milled face. The oversized Winn X grip provided a bit of a counterbalance to the head, so it felt somewhat lighter than my normal putter. Nevertheless, I quickly discovered that a relatively short stroke would provide plenty of distance. In fact, before I got the hang of the quick end-over-end roll, most of my missed putts ended a few feet past the hole.
Once I calibrated the pop off the face, though, I began to gain a better feel for contact off the sweet spot compared to less pure contact. The Huntington Beach 4 doesn't provide the most exquisite feel of any putter I've ever tested, but for the price, the feedback is every bit as good as many that cost two or three times more.
The only knock on the Huntington Beach 4 is the putter cover: Way too much Velcro. Velcro is odious anyway, but whatever they used on this head cover requires both hands and solid footing to pry it apart. One word for the next iteration of the Huntington Beach Series: magnets.
Cleveland Golf Huntington Beach Collection Putters: The verdict
Any serious golfer will tell you that a putter that instills confidence is worth its weight in gold. But this is only a figure of speech; there's no need for putters to cost nearly as much as they would if they were actually made of gold. Equipment companies should be able to produce solid, attractive, dependable putters at a reasonable price.
Cleveland Golf should be commended for doing just this. The Huntington Beach Collection stands as a sanity check on the skyrocketing prices of golf equipment. Everyone from casual golfers to serious club players will appreciate both the quality and the price point.
At present, the head shapes of the Huntington Beach Collection are somewhat limited, with just three models. But if the company succeeds in getting the word out, the collection will certainly expand in the coming years -- and hopefully, so will the number of golfers.
For more information, visit clevelandgolf.com.
More photos
«
»
October 3, 2016
Kiel Christianson has lived, worked, traveled and golfed extensively on three continents. As senior writer and equipment editor for WorldGolf.com, he has reviewed courses, resorts, and golf academies from California to Ireland, including his home course, Lake of the Woods G.C. in Mahomet, Ill. Read his golf blog here and follow him on Twitter @GolfWriterKiel.