Cleveland Golf's Classic Driver: Blending technology and tradition

By
Kiel Christianson
,
Senior Writer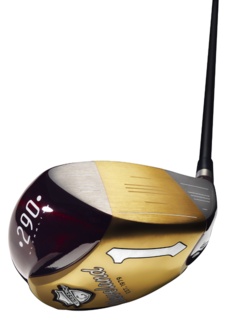 View large image | More photos
The Cleveland Classic Driver features faux-brass sole plate and face insert to recreate a classic look. (Courtesy of Cleveland Golf)
One of my pet peeves in golf announcing is when people like Johnny Miller refer to fairway woods as "fairway metals."
Yes, clubs that used to be made from wood are now made from metal, but it's not like anyone will think Tiger is swinging a persimmon 3-wood if we call it a "3-wood." (Note that these same announcers still call irons "irons" rather than "steels." So their stuffy precision is actually quite arbitrary.)
Using the term "woods" to describe drivers and fairway woods is a nice tip o' the tam to the not-so-distant equipment past. Many of us -- including, I suspect, Mr. Miller -- have fond memories of using wooden woods: the rich sheen of shellacked persimmon against the background of the green turf, the voluptuous pear-shaped heads, solid "thwack" on a well struck shot.
All of these features have been sorely lacking since the advent of the titanium driver, especially the "thwack," which has been supplanted by every "clink," "clank," "tink," "tank" and "crash" imaginable.
Until now.
New for 2012, Cleveland Golf is introducing the Cleveland Classic Driver (MSRP $300). The newest horse in the Cleveland stable has a mahogany-shaded crown, traditional pear-shaped head, faux-brass sole plate with an old-timey "1" on it and a brass-colored titanium face insert. It's even shipped in a heavy-duty cardboard tube with brass endcaps and a riveted leather handle and comes with a black-and-white pleather headcover.
Lying beneath the classic camouflage is only the latest high-tech engineering. The Classic has the deepest face of any driver Cleveland has ever produced. The Classic also comes in 270g and 290g weights, for slower and faster swings, respectively. The shaft is also fully modern: Miyazaki C. Kua Special Edition.
The Cleveland Classic is sort of like a Terminator wrapped in Ben Hogan's skin.
How the Cleveland Classic Driver plays
I could not wait to hit the first tee with the Cleveland Classic in my bag. When the first swing with a club results in a 280 blast into the wind straight down the fairway, it's hard to complain. Such was the case with the Classic.
And every bit as satisfying as the result of that first swing was the sound, the beautiful, beautiful "thwack" of contact -- the closest thing to a persimmon wood I've heard on a golf course since true woods went the way of the stegosaurus.
The faux-brass face insert is excellent for tracking where you make contact with the ball. The enormously deep face makes it extremely easy to find the sweetspot. It wasn't until the sixth hole of my home course until I missed the sweetspot, which is quite a feat for me.
Interestingly, when I missed the sweetspot, the contact out toward the toe resulted in a dead-straight shot, with nearly no torque in the clubhead. It's pretty nice after a semi-mishit to have only a 9-iron (or should that be a "9-steel," Mr. Miller?) into the green on a par 5.
The verdict on the Cleveland Classic Driver
The Cleveland Classic is for any golfer looking for the best new technology in a club that looks like it belongs in its own display case in the World Golf Hall of Fame.
At one point during testing, I handed the Classic to John Beckwith, a 61-year-old 7-handicap who still putts with an original Bulls-Eye putter. After he knocked a drive down the 18th fairway of our home course, Beckwith simply said, "I could play with this one."
Power and playability are both top-rate. I was able to shape shots as effectively as with lower-profile or smaller-headed drivers. The extremely deep face is forgiving, too, and launches the ball higher than might be suggested by the stated loft on the sole.
For this reason, it would be wise to test a few lofts out at a demo day or pro shop before buying to make sure you get a loft that delivers your preferred ball flight.
All in all, among golfers with a sense of history -- and for whom looks, feel and sound rank as high priorities -- I predict that the Cleveland Classic will be the "hot" driver for 2012. Keegan Bradley's win with the Classic at the 2011 Franklin Templeton Shootout augers well for both the driver and this prediction.
For more information, visit www.clevelandgolf.com.
More photos
«
»
December 14, 2011
Kiel Christianson has lived, worked, traveled and golfed extensively on three continents. As senior writer and equipment editor for WorldGolf.com, he has reviewed courses, resorts, and golf academies from California to Ireland, including his home course, Lake of the Woods G.C. in Mahomet, Ill. Read his golf blog here and follow him on Twitter @GolfWriterKiel.