Cleveland Golf's CG7 Tour Black Pearl Irons: A real treasure

By Kiel Christianson,
Senior Writer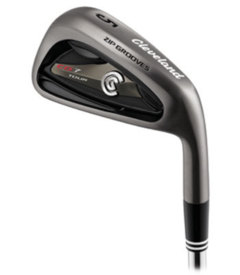 View large image | More photos
Cleveland Golf's CG7 Tour Black Pearl irons are ideal for mid-handicappers all the way down to scratch golfers. (Courtesy of Cleveland Golf)
Less than a decade ago, golfers were allowed precisely two options in irons: Either they had to play forged blades to work the ball, or they had to play skillet-sized, game-improvement irons to get the ball into the air with some force behind their miss-hits.
For mid-handicappers who had some control over their shot-making, but still experienced inconsistency in their ball-striking, there was no middle ground.
About six years ago, I reviewed my first set of "players" irons that afforded low double-digit handicappers like myself both forgiveness and workability in the same package. And now, thankfully, the market is expanding exponentially. Even so-called "Tour" irons are incorporating game-improvement features like progressive offset, vibration dampening, and cavity backs. And even some touring pros are playing clubs with these features -- why not, if they can still work the ball?
One of the newest, and perhaps the most innovative, of these flexible and player-friendly irons is the Cleveland CG7 Tour Black Pearl (MSRP $899). The Black Pearls are a real treasure, incorporating all the features mentioned above, and then some.
How Cleveland Golf's CG7 Tour Black Pearl irons play
There's a lot of technology crammed into Cleveland Golf's CG7 Tour Black Pearl irons. But the first thing you notice is the namesake dark finish. This gunmetal or slate finish is a new trend in full iron sets this year, having been introduced some years back on wedges by Cleveland Golf and some other club makers. I'm not sure what the advantage of the dark matte finish over the traditional shiny chrome is, other than reducing glare on bright sunny days.
If glare bothered you, you'll like the Black Pearls; if you're a traditionalist, they might look sort of funky. And since black is slimming, it seems that the clubhead does look a bit more compact than it really is, too, which might make some players shy away.
The next attribute that jumps out is the unique groove pattern: The Black Pearls feature Cleveland's CG7 laser-milled clubface, with the maximum number of grooves and texture allowed by USGA rules. There are several microgrooves between the main grooves, and all of these grooves are the company's precision-milled Zip Grooves, providing the maximum depth and sharpness of groove allowed by the USGA's new standards.
What does all this milling provide? In several rounds playing the Tour Black Pearls and on the range at Lake of the Woods Golf Course in Mahomet, Ill., the Tour Black Pearls performed admirably. The aforementioned grooves impart remarkable spin to the ball, and because of this backspin, these irons get the ball airborne as fast as most "game-improvement" irons. Well-struck shots fly very high and long, and land with incredible grace.
An example of this was a soft 8-iron I hit on the par-3 fourth hole at Lake of the Woods (my normal 9-iron had been forgotten in the trunk of my car). Despite a soft swing, the ball rocketed high into the air toward the back of the green. Rather than bounding over the bank into a bunker, though, the ball hit the frog hair, took one hop nearly straight up, and stopped. Dead.
Sold.
The verdict on Cleveland Golf's CG7 Tour Black Pearl irons
I've tested a number of irons in this category now, irons that integrate game-improvement technology into smaller, more workable clubheads, and the CG7 Tour Black Pearls are at or at least very near, the top of the heap.
The only real knock on these irons is on windy days, when the high ball flight imparted by the grooves might be tricky to control. Also, all the little grooves collect dirt, so it's important to keep them clean to maintain their intended effect.
Mis-hits are not penalized too harshly in distance or direction, and, thanks to vibration-dampening heel-toe weighting, they won't send teeth-rattling vibrations up your arms, either. Those radical grooves provide height and distance equivalent to what is gained with bigger, clumsier clubheads, while maintaining workability – ideal for everyone from mid-handicappers down to scratch players.
For more information, visit www.clevelandgolf.com.
More photos
«
»
May 25, 2010
Kiel Christianson has lived, worked, traveled and golfed extensively on three continents. As senior writer and equipment editor for WorldGolf.com, he has reviewed courses, resorts, and golf academies from California to Ireland, including his home course, Lake of the Woods G.C. in Mahomet, Ill. Read his golf blog here and follow him on Twitter @GolfWriterKiel.