Cleveland Golf's Custom 588 driver: Sleek and powerful with all those tech bells and whistles

By
Kiel Christianson
,
Senior Writer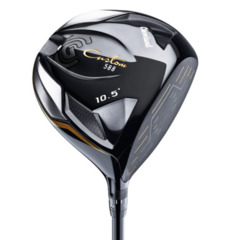 View large image | More photos
Cleveland Golf's 588 Custom is the company's newest driver, and its longest ever. (Courtesy of Cleveland Golf)
Cleveland Golf is most well known for its wedges. But for years now, its drivers have been building a loyal following. The company has in the past eschewed some of the trendier features of present-day drivers, even recently going the other direction with a throwback driver.
The newest driver offering from Cleveland Golf, the 588 Custom ($350), boasts not only the company's preferred classic look at address but also every technological bell and whistle available today, including adjustable face angle and weighting, along with one of the largest sweet spots in the market.
Playing Cleveland Golf's 588 Custom Driver
The 588 Custom is sleek at set-up -- jet black with fine gold detailing. There's no alignment or aiming mark on the crown, but if you don't know where the center of your driver face is, chances are that a little dot isn't going to help you find it when you swing.
The stock shaft is one of the best on the market: the Ozik Matrix 6Q3, which has a mid kick-point, to promote a high but not ballooning ball flight. The stock shaft is 45.5 inches, which is about a half-inch longer than my normal driver, and I left the face set to N for "neutral,"0 or square.
At my local course, the small, added length and square face produced a slight fade off the tee, which was controllable and powerful. Of all the Cleveland drivers I've tested, the 588 Custom was unquestionably the longest (e.g., driver-8i on a slightly downhill, 495-yard par 5).
The feel was exquisite -- balls struck on the sweet spot produced barely more than a soft little click, and the ball rocketed into the sky. Most impressively, my first five swings with the 588 Custom actually contacted the ball in the center of the clubface, which is an unheard of stretch of consistency for me. I don't know whether this was due to the size of the sweet spot or if I was just swinging well that day. But either way, for a while there, I felt like I couldn't miss.
Cleveland Golf's 588 Custom Driver: The verdict
You know Cleveland Golf for wedges and maybe putters and irons, too. But don't overlook the company's new 588 Custom Driver. It doesn't come in wild colors. And it isn't shaped like a space ship. It looks clean, classy, traditional -- and powerful.
And, in fact, it is all of these.
For more information, visit clevelandgolf.com.
More photos
«
»
May 21, 2014
Kiel Christianson has lived, worked, traveled and golfed extensively on three continents. As senior writer and equipment editor for WorldGolf.com, he has reviewed courses, resorts, and golf academies from California to Ireland, including his home course, Lake of the Woods G.C. in Mahomet, Ill. Read his golf blog here and follow him on Twitter @GolfWriterKiel.