Bushnell Neo+ GPS Rangefinder Watch is convenient and accurate

By Kiel Christianson,
Senior Writer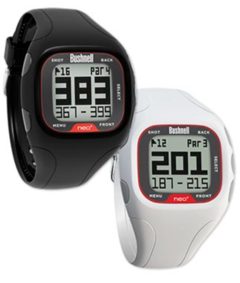 View large image
The Bushnell Neo+ GPS Rangefinder Watch is handy and accurate on more than 25,000 preloaded golf courses. (Courtesy of Bushnell Golf)
I have always been skeptical of rangefinders. To me, estimating yardages using the yardage markers provided on most courses is part of the fun of the game.
If you pay attention as you're approaching your ball, making these calculations on the fly does not typically affect pace of play. I have seen too many players wander to and from their balls and fumble through their bags, digging out rangefinders and slowing down play to completely buy the argument that these devices keep golfers moving along in a timely fashion.
On the other hand, I play a lot of unfamiliar courses, and I hit my ball into many, many spots that are not necessarily well marked with respect to yardage (or even generally conducive to normal play). On these occasions, I do see the utility of a handy rangefinder.
Enter the Bushnell Neo+ GPS Rangefinder Watch ($200). This high-tech wristwatch is pre-loaded with more than 25,000 golf courses worldwide, including my home course -- and even the par-3 course. No downloading of course information is required, and no subscription is required. (But see below.)
Best of all, the Neo+ is a watch that is always with you. No rummaging through your bag or the golf cart before checking the yardage. You can look at it if you want, without taking any more time that glancing at your wrist.
How the Bushnell Neo+ GPS Rangefinder Watch performs
I've worn the Bushnell Neo+ during about 15 rounds, both at my home course and on courses from Reno, Nev., to French Lick, Ind. In French Lick, on the Pete Dye Course at French Lick Resort, I compared the yardages from the Neo+ to the laser rangefinder that my caddie used. The Neo+ provided measurements to the front, middle and back of the green and they were right on as far as I could tell, as long as we knew where the pin was located.
In Sparks, Nev., at Red Hawk Golf and Resort, the Neo+ provided yardages from neighboring fairways and far-flung patches of rough on The Hills Course, thanks to my wild driver that day.
As useful as I've found the Neo+ to be, there are a few minor irritations, and one major one. The minor ones are related to battery life and recharging. The watch comes with a unique clamp-style charger, which is harder to replace should it be lost than a more standard sort of charger. Also, although the watch battery is good for about three rounds before needing a charge, it doesn't seem to give any warning before dying, so I've had it go out on me a few times out on the course. (Mostly my fault, I know.)
The major irritation is related to starting the Neo+ up. Only a Quick Start Guide is included in the box, so new owners must go to a website to download the full user's manual. One detail that you find in the manual is that you must register your Neo+ within 180 days (or else!) at iGolf.com. On this website, you are informed that you need to install two drivers to update course information, etc.
This process, it turns out, not only requires you to choose yet another password and give your contact info to yet another website (the NSA isn't the only one tracking your behavior, folks), but also forces you to restart your computer to install the driver. This is a serious inconvenience for people like me who have dozens of programs running and documents open at all times. In fact, it's almost irritating enough for me to decide that it wouldn't be worth the hassle.
The verdict on Bushnell Neo+ GPS Rangefinder Watch
In the end, though, the hassles with the online registration are worth the convenience of the Neo+. There may be golfers who cannot get used to wearing a somewhat bulky watch on the course, but I found the latex band to be pretty comfortable on all but the hottest, stickiest days.
The Neo+ also offers several other functions, including time/date, odometer, stopwatch and timer. If you use it just as a watch, the battery will last for months between charges. One of the other functions, "Shot," allows you to walk off the distance between your ball and, say, a hazard. But frankly, if you're going to walk off the yardage anyway, why bother with the watch?
On my home course, I found the Neo+ to be basically redundant -- I already know how far most of the shots are and what clubs to use. However, after toe-shanking my drive on the ninth hole and finding my ball nearly out of bounds on the other side of the 10th fairway, I actually was happy to be able to glance down at my wrist to see I had 176 yards left to the front of the green.
And on completely unfamiliar tracks, the Neo+ is awfully handy and will indeed speed up play.
For more information, visit bushnellgolf.com.
July 8, 2013
Kiel Christianson has lived, worked, traveled and golfed extensively on three continents. As senior writer and equipment editor for WorldGolf.com, he has reviewed courses, resorts, and golf academies from California to Ireland, including his home course, Lake of the Woods G.C. in Mahomet, Ill. Read his golf blog here and follow him on Twitter @GolfWriterKiel.