Big Max Golf Z 360 push-cart is flexible and functional

By
Kiel Christianson
,
Senior Writer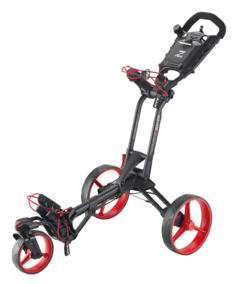 View large image | More photos
The Big Max Z 360 golf push-cart sits high off the ground and puts all of your accessories at your fingertips. (Courtesy of Big Max Golf)
Big Max Golf bills itself as the no. 1 golf trolley manufacturer in Europe. "Trolley" is the term used across the pond for push-carts, as we tend to call them in the U.S. Another thing that Americans might not know about golf push-carts, or trolleys, in Europe is that they are far more popular there than here. This past year, I've either visited or read of at least a half-dozen U.S. courses that are walking-only, but which disallow push-carts, either completely or before 5 p.m.
This state of affairs is utterly ridiculous. What is it about the American bias against push-carts? I recall a former co-host (who shall remain nameless) of a popular morning golf show arrogantly, and nonsensically, panning push-carts a couple years ago. I mean, why not walk? And why break your back carrying your clubs when you can roll them?
The new Z 360 push-cart by Big Max Golf ($240) not only allows you to walk the course and get some much needed exercise. It also allows you to bring along your full bag and a cart full of accessories without risking injury.
The Z 360 is all about comfort and ease: It opens up and folds down with the flip of two small levers. It sits high off the ground, so you don't have to reach down for your clubs and so that the bottom of your bag doesn't get splashed in soggy conditions. The front wheel, from which the model gets its name, swivels 360 degrees to make steering a breeze, but can also lock into place for stability on steep hillsides. The storage console and range of clip-on accessories are all designed to put every conceivable accouterment at your fingertips.
In short, the Big Max Z 360 gives you all the flexibility and functionality of a motorized golf cart while still allowing you the traditional pleasure of walking the course.
Playing with the Big Max Z 360
Every since my Z 360 arrived, I've been using it during all my rounds at my home course, which is extremely walkable, despite having more hills than all the other local courses combined. Through some 12 rounds, I can find a great deal to praise and very little to complain about.
The ease with which the Z 360 folds and unfolds is remarkable. For a relatively large cart (7 kilos), it folds up very compactly, fitting neatly into the trunk of my mid-sized car along with my golf bag and some 20 pairs of golf shoes. (Don't judge.)
The swiveling front wheel combined with a well padded, ergonomic handle makes it easy to steer, even one-handed (on those "rare" occasions when I'm holding a beer or cigar in the other hand). I don't usually need to lock up the wheel, however, doing so is useful on bigger hills.
I really love the storage console, which incorporates tee and ball holders, a magnetic ball marker, and a scorecard and pencil holder. There's also a second cardholder on the inside of the console, to protect the card in wet weather -- very clever, that.
The umbrella holder clips in, and can be swapped with a cell phone bracket (sold separately), if you happen to use your phone to keep score or record shots, or as a GPS device. Other separately available add-ons include a hand warmer, towel holder, glove holder, and rangefinder holder.
The only thing I don't love about the Z 360 is the drink holder: it's a wee bit small to fit certain beverage containers comfortably, or a beer can with a snuggie on it. Also, the umbrella holder doesn't clip onto the frame when not in use, so you need to keep track of it so as not to lose it.
Big Max Z 360 golf push-cart: The verdict
I've used a lot of golf push-carts because I love to walk when I play. (You hear that, you snooty golf courses and former golf show hosts?) And at my home course at least, well over 60 percent of regulars apparently feel the same way -- a proportion that has increased dramatically over the years, by the way.
Out of all these carts, the Big Max Z 360 is probably the most functional, most flexible of all of them. It's not the lightest, and there are times when the swiveling front tire might cause a bit of irritation in uneven places. But these quibbles notwithstanding, this is a cart I would highly recommend to anyone looking to return to the pedestrian roots of golf.
For more information, visit bigmaxgolf.com/en
More photos
«
»
August 19, 2015
Kiel Christianson has lived, worked, traveled and golfed extensively on three continents. As senior writer and equipment editor for WorldGolf.com, he has reviewed courses, resorts, and golf academies from California to Ireland, including his home course, Lake of the Woods G.C. in Mahomet, Ill. Read his golf blog here and follow him on Twitter @GolfWriterKiel.