Bag Boy XLT-15, keri golf's sara: Golf bags with masculine, feminine features

By
Kiel Christianson
,
Senior Writer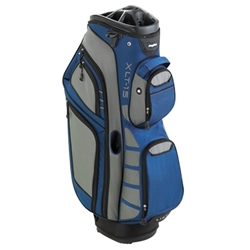 View large image | More photos
The Bag Boy XLT-15 cart bag clicks your golf clubs into place to keep them safe and secure. (Courtesy of Bag Boy)
Golf bags need to be convenient. The good ones have lots of easy-to-access pockets and a topside opening that facilitate finding and pulling the right club.
In recent years, golf bag designers have also placed greater emphasis on keeping your precious (and increasingly expensive) clubs safe and free from damage.
Two recent offerings by smaller, high-end bag companies, Bag Boy and keri golf, represent two quite different takes on club security, one a very masculine approach and the other a very feminine approach.
Bag Boy XLT-15 golf bag
The new XLT-15 ($170) feels more like it should be from a company called Bag Man rather than Bag Boy. This is a sturdy yet reasonably light cart bag that is stable on its base and choc-full of huge, spacious pockets. Other bells and whistles include external tee holders, pencil and score-card holders, and a Velcro glove-holder.
The main innovation, though, is found in the 10-inch organizer top. There are 11 individual bays with full-length dividers to protect your grips. Housed in each of the bays are one (seven bays) or two (four bays) individual "Clip-Loks" -- little notches into which you can clip your clubs.
These notches keep the clubs from rattling around or banging together during travel or on the course. The edges of the organizer top are lined with firm foam rubber that won't scrape or scratch your shafts. In addition, there's an external putter well with a putter clip at the top to snap your flat stick into place.
All these features combine to create a palpably masculine approach to club safety: separating the clubs and locking everything into place. Access to the clubs is good, but clicking them in and out of the Clip-Loks during actual play was, for me at least, a bit too much work.
Of course, one doesn't need to use the little notches; however, sometimes clubs slide into them on their own, and then when you try to pull them out, you're not ready for it, and they sort of stick in the bag. The notches are perfect for traveling, however.
keri golf's sara cart bag
Boutique women's golf bag designer keri golf goes in an eminently more feminine direction with its sara cart bag ($335, including a set of head covers), part of the company's 2011 spring collection.
Rather than firm rubber restraining your clubs, the sara features a 14-bay top lined with plush yet durable fabric. Rather than being locked down, your clubs are secured in a sort of gentle hug.
The sara has a deep purple main body with black-and-white accents. Most striking of all are the polished, stainless-steel zipper pulls on the 10 spacious pockets, along with a clip-on valuables pocket (which can be unclipped and taken with you), a stainless-steel keri golf nameplate, and a pink-and-green rubber keri golf bag tag.
As the price suggests, the sara is a high-end golf bag (as are sara's sister bags -- kate, riley, lillian and sadie -- all of which have their own distinctive patterns and colors). However, the almost over-the-top styling and unique colors are so attractive that even the non-golfing women-folk in my family viewed the sara with a sort of admiration usually reserved for designer handbags.
"That almost makes me want to go play golf," commented my wife, who deigns to play a par-3 course maybe once every two years.
And for lady golfers who want a truly well matched set, keri golf has teamed with Adams Golf to offer a limited edition keri golf V3 Premium Set, consisting of Adams Golf Idea Tech V3 hybrid irons -- honored with the 2011 Editor's Choice Award by Golf Digest -- the aerodynamic Speedline Fast 10 Driver, and easy-to-hit Speedline Fast 10 fairway woods ($1,100 for full set, bag and headcovers).
Bag Boy XLT-15 and keri golf sara cart bags: The verdict
Golf bags aren't homely canvas tubes any more; they are statements of one's individuality and style.
More importantly, they are designed to protect your precious clubs and provide easy access to the innumerable accoutrements golfers tend to accrue over the course of a season or two.
In their own unique ways, both the XLT-15 and keri golf's sara succeed in taking the functionality and styling of the golf bag to the next level.
For more information, visit www.bagboy.com and www.kerigolf.com.
More photos
«
»
August 9, 2011
Kiel Christianson has lived, worked, traveled and golfed extensively on three continents. As senior writer and equipment editor for WorldGolf.com, he has reviewed courses, resorts, and golf academies from California to Ireland, including his home course, Lake of the Woods G.C. in Mahomet, Ill. Read his golf blog here and follow him on Twitter @GolfWriterKiel.