Anchored by Ballybunion and Lahinch, the Southwest is Ireland's home of links golf

By
Brandon Tucker
,
Managing Editor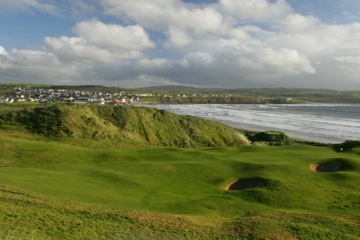 View large image | More photos
Nineteenth-century Lahinch Golf Club in County Kerry is one of southwest Ireland's popular must-play links. (Getty Images)
The golf courses of southwest counties Clare and Kerry make for Ireland's most popular golf tour and with good reason. Visitors receive a warm, Irish welcome no matter which little seaside village or town they're in, and some of the world's most coveted links land at your disposal.
Among these links is a mix of old and new. Ireland has certainly added to its status as a golf destination worthy of rivaling Scotland's best since the 1980s, and the Southwest is a prime example of its tremendous improvements.
The two old darlings of the Southwest are Ballybunion Golf Club and Lahinch Golf Club, and the two are similar for many reasons. Both have history dating to the 19th century and have hosted some of Ireland's top events in the process. Both are set on coastal dunesland as spectacular as there is and feature some of links golf's finest holes. Both have also added complementary 18 holes to their famous links.
Doonbeg Golf Resort has emerged in recent years as the region's best stay-and-play links resort just down the coast from Lahinch. Though Tralee Golf Club dates back to the 19th century as well, the current, spectacular site for the golf club was found in 1984 and designed by Arnold Palmer.
Near Ballybunion, the Dooks Golf Club is a player-friendly solid second links worth visiting, especially if you've got someone in your group new to links golf. It won't shred their confidence like penal Ballybunion possibly could. Dingle Golf Links, known also by its gaelic name of Ceann Sibeal, is a popular, less expensive filler links as well.
While Old Head's cliff-top golf links is more southeast than southwest in the popular resort village of Kinsale, known especially for its dining, it's generally grouped into the Southwest region as a must-play. From Killarney, it's about a two-hour drive to the 360-degree sea views.
Golf in southwest Ireland: Parkland courses
The southwest is also home to some of Ireland's top parklands, like Adare Manor and Dromoland Castle, both a quick drive from Shannon Airport, as well as three-course Killarney Golf & Fish Club.
Getting to southwest Ireland
Shannon Airport (SNN) is small in size but has a runway large enough to receive overseas aircraft. It's also been subsidized by national carrier Aer Lingus, so flights are usually cheaper to Shannon compared to Dublin's airport (DUB), which is much larger and harder to get around.
From Shannon Airport, Doonbeg and Lahinch are about an hour to an hour and a half drive to the north, while Ballybunion, Tralee and Waterville are south two-to-three hours.
The Killimer-Tarbert Shannon Estuary Ferry
For passage between County Clare and County Kerry, you'll save 85 kilometers by taking the Killimer-Tarbert Ferry on the Shannon Estuary. Between the two villages, the journey takes 20 minutes, and ferries leave every hour. Cost starts at �18 for cars with passengers.
For more information on golf in Ireland, visit the official tourism Web site, DiscoverIreland.com.
More photos
«
»
November 9, 2009
Brandon Tucker is the Managing Editor for Golf Advisor. To date, his golf travels have taken him to over two dozen countries and over 500 golf courses worldwide. While he's played some of the most prestigious courses in the world, Tucker's favorite way to play the game is on a great muni in under three hours. Follow Brandon on Twitter at @BrandonTucker and on Instagram at BrandonTuckerGC.