Destination Guide: Queensland, Australia

By
Brandon Tucker
,
Managing Editor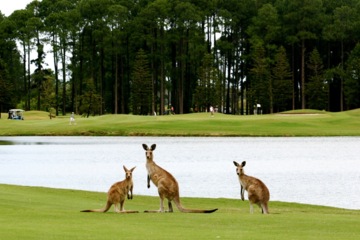 View large image | More photos
Kangaroos are a common site on Australia golf courses such as The Pines course at Sanctuary Cove. (Brandon Tucker/TravelGolf)
Known as Australia's "Vacation State" or "Sunshine State," Queensland is full of natural wonders and wildlife, making it an exotic holiday destination for both travelers abroad and native Australians from places such as Melbourne and Sydney.
Queensland is located in the continent's northeast corner and is home to the Great Barrier Reef. The reef, which is actually a mighty collection of many different reefs, extends 2300 kilometers along the coastline and is the largest in the world. Both private boats or tour operators such as Cruise Whitsundays explore the reef's unique ecosystem, and tourists can snorkel or scuba dive around the reef, or view it from above via helicopter.
The state is better known for the reef and the Whitsunday Islands than it is for its golf courses. But where people vacation they play golf, and Queensland is full of courses along the coast for visitors to enjoy. It also has a climate suitable to play year-round, though there is a rainy season and a dry season.
The largest golf hotbed lies just south of the capital of Brisbane in the Gold Coast, one of Australia's larger cities. It is home to theme parks, shopping and exciting nightlife in Surfer's Paradise, which is the center of it all. Not everywhere in the Gold Coast is a party mecca, though. Resort and residential developments span along the coast, such as Sanctuary Cove (home to 36 holes and a Hyatt Regency resort), which has retreats for residents and vacationers looking for something a little more laid back.
North of Brisbane is the more relaxed Sunshine Coast, which has its own worthy collection of courses, headlined by the Hyatt Regency Coolum Golf Club, home to the Australian PGA Championship. This lesser-developed area is also home to uncrowded beaches and is a wildlife haven. It's the home of the late Steve Irwin and his family's Australia Zoo.
No trip to Queensland is complete without a stop in the Whitsunday Islands, a collection of 74 islands, mostly uninhabited, and a sailor's paradise. Vacationers can take cruises to certain Great Barrier Reef locations or remote Whitehead Beach. Only a handful of the islands are populated. The largest, Hamilton Island, recently added its own 18-hole golf course on adjacent Dent Island. One of Australia's best spots for fishing, yachting and exclusive beaches and resorts, the Whitsundays are now a golf destination thanks to this new addition.
Getting to Australia and Queensland via Qantas Airlines
Getting to Australia from North America is most commonly done through Los Angeles international Airport (LAX), and national carrier Qantas Airlines does the 14-hour journey well. You can reach Queensland from LAX by either flying directly into Brisbane or connect through Sydney. You'll arrive two days after you depart America and upon return, you will actually arrive on the same day of your departure.
As part of the One World Alliance, Qantas partners with American Airlines in the U.S. and has many domestic connections throughout Australia, making it easy to book multi-leg flights. Another bonus of connecting on American Airlines to Qantas in LAX is there is a courtesy shuttle connecting Terminal 4 to the Tom Bradley International Terminal, which allows passengers to bypass security lines that other connecting passengers must go through.
The plane used for the flight, the two-level Qantas A380, is a comfortable and quiet ride that delivers ultra-smooth takeoffs and landings. The Aussies are experts in long-haul flying, and they've equipped their international economy cabins with all the necessary comforts for the journey, including elevated foot rests, personal entertainment centers with more than 200 TV shows and 60 movies, and ergonomic chairs.
More photos
«
»
December 6, 2010
Brandon Tucker is the Managing Editor for Golf Advisor. To date, his golf travels have taken him to over two dozen countries and over 500 golf courses worldwide. While he's played some of the most prestigious courses in the world, Tucker's favorite way to play the game is on a great muni in under three hours. Follow Brandon on Twitter at @BrandonTucker and on Instagram at BrandonTuckerGC.